Safeway Shares Tumble and 2 More Heavily Traded Stocks to Follow
Safeway (NYSE:SWY): Current price $24.31
On Thursday, shares fell the most in a decade, on word that the number-two domestic supermarket chain posted first-quarter same-store sales that were lower than a previously-estimated figure. The shares fell by 19 percent to $22.99 at 12:08 p.m. in New York, marking their biggest intraday plunge since April of 2003. Safeway had gained 56 percent year-to-date through Wednesday, versus an 11-percent rise for the Standard & Poor's 500 Index. In a statement, the company said that same-store sales, excluding fuel, increased by 1.5 percent in the first quarter. Chief Executive Steve Burd predicted on a conference call in February that same-store sales could rise between 1.8 and 2 percent during the period.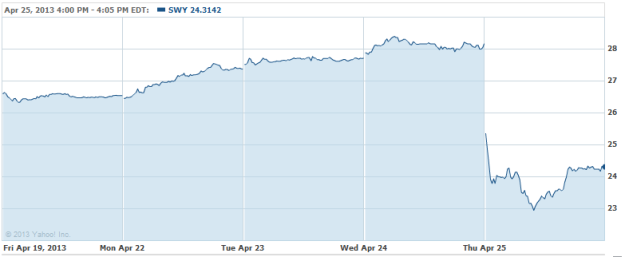 General Electric Company (NYSE:GE): Current price $21.96
MetLife (NYSE:MET) has recently taken out an energy savings policy with GE Lighting, upgrading to EvolveLED outdoor lighting in parking lots located at 10 office locations, and transferring to more energy-efficient T8 fluorescent indoor lighting at its 650,000-square-foot administrative center in St. Louis. All told, the solutions will save MetLife roughly $360,000 annually while consuming around 3.5 million fewer kilowatt hours of electricity.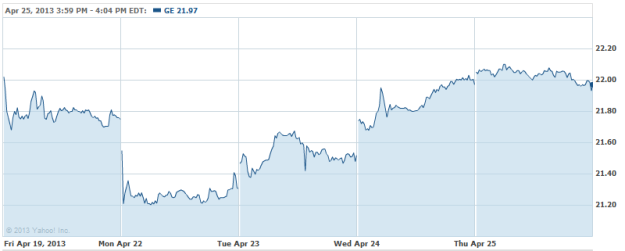 Barrick Gold Corporation (NYSE:ABX): Current price $19.03
Barrick has announced that its board has declared a dividend for the quarter of 20 cents per share, payable on June 17th to shareholders of record at the close on May 31.  The declaration and payment of dividends remains at the discretion of the board, and will depend on the firm's financial results, cash requirements, future prospects, along with other factors considered relevant by that body.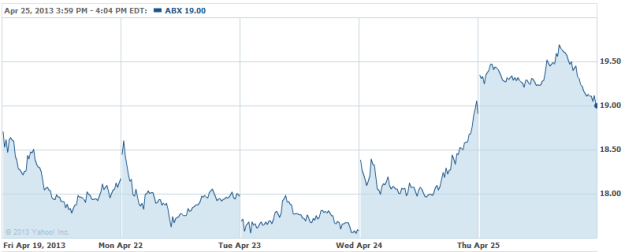 Don't Miss: Are Americans Falling for Bernanke's Wealth Effect?