Safeway Upgraded & Told to Shrink and 2 More Heavily Traded Stocks to Follow
Safeway Inc. (NYSE:SWY): Current price $28.14
Safeway shares were upgraded from Underperform to Outperform at Credit Suisse, but the latter observed that the iconic grocery chain might accomplish more with less if it would reduce its presence in certain markets, perhaps including Southern California, in which Whole Foods is dominant with the foodie and health-conscious groups. The new Chief Executive Robert Edwards is thinking of ways to boost the value of shares, one of which might include selling assets in weaker markets with analysts saying that the divestiture of stores in the Southern California market could bring a significant upside. In the meantime, Safeway's price target was raised from $26 to $34.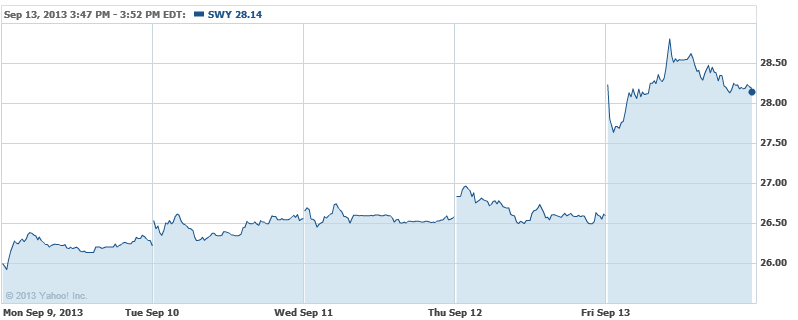 Sprint Nextel Corp. (NYSE:S): Current price $6.75
For the third straight year, Sprint has been named to the Dow Jones Sustainability Index North America, which follows the corporate sustainability performance of the top 20 percent of the 600 biggest firms by industry in the United States and Canada. Sprint was said to be a leader in the Telecommunication Services sector, with especially high marks for its endeavors in the categories of innovation and supply chain management, privacy protection, and human capital development, in which the carrier earned the highest possible score.

Potash Corporation of Saskatchewan Inc. (NYSE:POT): Current price $32.44
Potash Corp. said Thursday that its board has declared a quarterly dividend of 35 cents per share, payable November 5 to shareholders of record as of October 15. Shares are up Friday by 2.6 percent on heavy volume.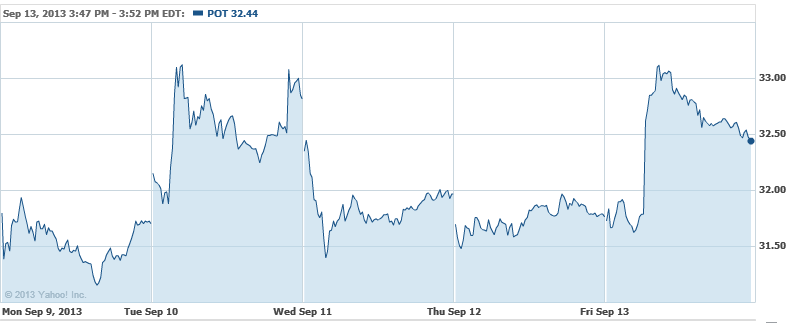 Don't Miss: What Does Intel's Factory Shutdown Mean in Massachusetts?