Sallie Mae Cashes in on Demand for Higher Education
"Students and their families are increasingly cost conscious when making education decisions," said John Remondi, president and CEO of SLM Corp. (NYSE:SLM) — aka government-sponsored student loan company Sallie Mae — in the company's third-quarter financial report. "Even so, our loan originations grew by double digits this quarter, confirming the continuing demand for our responsibly designed products."
Private loan originations grew by 11 percent on the year to $1.5 billion at Sallie Mae's consumer lending segment, a lucrative pop in business, particularly given a 0.6 percentage point reduction in the corporation's annual charge-off rate to 2.6 percent. Provisions for education loan losses fell 22.6 percent on the year to $195 million, and the firm's core net interest margin before loan loss provisions increased from 4.05 to 4.24 percent.
All told, it was a fairly strong quarter for Fannie Mae, although one that analysts pretty much expected. Adjusted earnings of 60 cents per share fell just shy of the average analyst estimate of 61 cents per share. Shares traded down fractionally on the news.
For the 2012-2013 academic year, Sallie Mae calculates that 31 percent of students took out a loan in order to help finance their education, and that of these students, they paid for an average of 18 percent of their costs with borrowed money. The share of costs that borrowed money is covering is up from 14 percent five years ago — or, to put it another way, the prevalence of student borrowing is increasing.
"Private education loans appear to help families pay for higher-cost colleges," Sallie Mae commented in a 2013 report on how students pay for college. "Students attending four-year colleges are more likely than those at two-year schools to use private education loans, and those attending private colleges are more likely to use them than those attending public colleges."
Sallie Mae provided a breakdown of how much students pay and borrow for college, and how much money they are likely to make after graduation: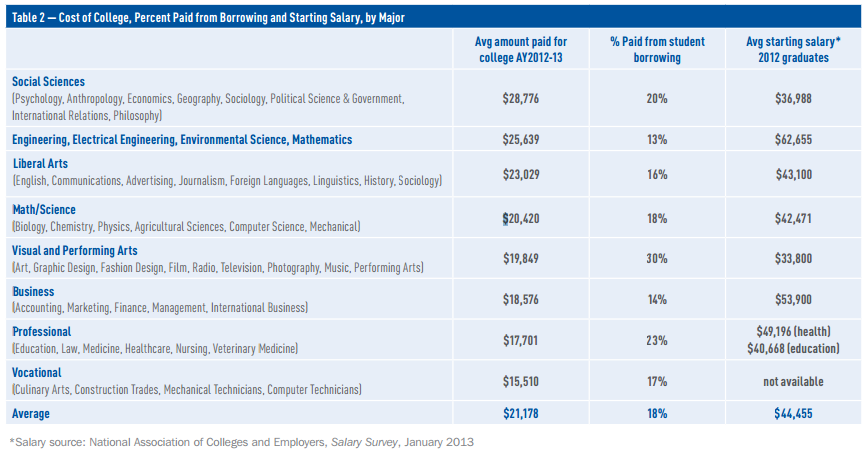 According to the American Institute of CPAs, there were nearly 39 million adults in the United States with student loan debt at the end of 2012 — a 70 percent increase from 2004. At an average of $24,803 per loan, the total amount of outstanding student debt was more than $950 billion, greater than the total amount of all credit card debt and second only to mortgages as a contributor to overall household debt.
This seems to be the function of two complementary problems: the fact that the cost of college has increased dramatically over the past 25 years and that federally subsidized loans probably helped fuel the surge. Put one way, demand for a college education — real, perceived, or otherwise — has increased steadily over the past few years. The number of people attending college between 2000 and 2010 increased 37 percent, with much of the growth in full-time enrollment (compared to an increase of 11 percent in the previous decade).
There are no doubt shades of grey in this picture, but it doesn't take a college education to see that when droves of applicants line up with cash in hand, colleges not only open up their doors but can also increase the cost of admittance with little or no repercussions.
This is because demand for a college education is still enormously high. According to Sallie Mae, nearly 70 percent of students believe that a college education is needed for their desired occupation. What's more, 86 percent of students still strongly agree that a college education is a good investment in the future, and 74 believe that a degree is more important now than it was in the past.
Don't Miss: 3 Stocks Sinking the Dow After Government Shutdown Ends.