Sallie Mae Earnings: Making Money On College Kids
S&P 500 (NYSE:SPY) component SLM Corporation (NYSE:SLM) saw profit fall amid falling revenue. SLM Corporation originates, services and collects student loans. It provides funding, delivery and servicing support for education loans in the US.
Don't Miss: Wall St. Cheat Sheet's newest Feature Trades of the Month!
SLM Earnings Cheat Sheet for the First Quarter
Results: Net income for SLM Corporation fell to $175 million (32 cents/share) vs. $240.1 million (45 cents/share) a year earlier. A decline of 27.1% from the year earlier quarter.
Actual vs. Wall St. Expectations: SLM fell short of the mean analyst estimate of 40 cents/share. Estimates ranged from 38 cents per share to 43 cents per share.
Quoting Management: "These results reflect progress," said Albert L. Lord, vice chairman and CEO, Sallie Mae. "The trends we see across the franchise are improving: private loan demand, ABS market tone, and asset quality together with a better Department of Education loan servicing scorecard. Reinstitution of the dividend and share repurchase program reflects the strength of our capital, liquidity and cash flow."
Competitors to Watch: The First Marblehead Corporation (NYSE:FMD), Nelnet, Inc. (NYSE:NNI), and World Acceptance Corp. (NASDAQ:WRLD).
Today's Performance: Shares of SLM are up 7.8 percent.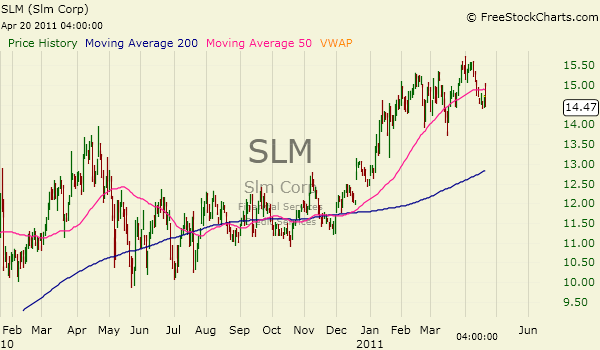 Don't Miss Wall St. Cheat Sheet's newest Feature Trades of the Month!