Sanofi Required to Lower Dose and 4 Stocks Enjoying 52-Week Highs
Prologis (NYSE:PLD): Closing price $38.04
Prologis said that it will be the sole sponsor of Nippon Prologis REIT, which is a Japanese real estate investment trust. The firm will retain at least a 15 percent ownership interest in NPR and contribute 12 of its Class-A properties in Japan, which will comprise the initial portfolio. The appraised value of the assets is about $2 billion. The portfolio, with its weighted average age of 3.4 years, totals 9.6 million square feet, and is mostly located in the world markets of Tokyo and Osaka. Shares closed down 0.47 percent on the day at $38.04, having been traded in a 52-week range of $29.09 to $38.28.

The Royal Bank Scotland Group (NYSE:RBS): Closing price $11.65
United Kingdom regulators are in negotiations with Royal Bank of Scotland in regards to whether two executives should step down subsequent to the Libor scandal, according to the Wall Street Journal. Knowledgeable sources say that the Financial Services Authority is pressuring the bank to hold one or more persons accountable. Shares closed up 3.93 percent on the day at $11.65, and have been traded in a 52-week range of $6.01 to $11.28.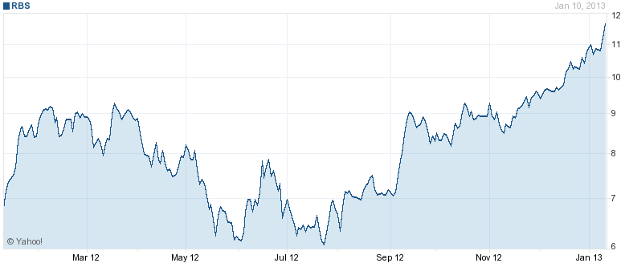 Are these stocks a buy or sell? Let us help you decide. Check out our Wall St. Cheat Sheet Stock Picker Newsletter now >>
Sap (NYSE:SAP): Closing price $82.40
SAP reported that its Business Suite software, which is used to calculate financials and manage operations, can now run on the firm's Hana database, says Business Insider. The feat sets a challenge to Oracle (NASDAQ:ORCL), which also markets business software. Shares closed up 2.94 percent on the day at $82.40, having been traded in a 52-week range between $52.95 and $82.40.
Sanofi-Aventis (NYSE:SNY): Closing price $48.45
Sanofi, as the maker of Ambien,  along with manufacturers of other insomnia drugs that contain zolpidem, will be required by the FDA to lower the recommended dose. The agency said that the recommended bedtime dose should be lowered because new data indicate that blood levels in some patients may be high enough the morning after use to impair activities that require alertness, including driving. However, the FDA said that recommended dosages of Transcept Pharmaceuticals' (NASDAQ:TSPT) Intermezzo, a lower-dose zolpidem product okayed for middle-of-the-night awakenings, will not be modified. At the time of Intermezzo's approval in November 2011, the label already recommended a lower dosage for women than for men. In afternoon trading, shares of Transcept rose 16 by cents to $5.43. Sanofi shares closed up 0.79 percent on the day at $48.45, and have been traded in a 52-week range of $33.03 to $48.65.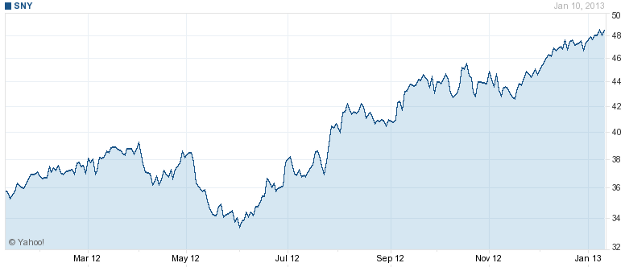 Walker & Dunlop (NYSE:WD): Closing price $18.48
On Thursday, the firm reported a 2012 loan origination volume of $7.1 billion, representing a year-over-year increase of 76 percent from 2011, and ended the year with a loan servicing portfolio of $35.2 billion, up 110 percent for the same period. Further, the company has increased its 2013 loan origination guidance from $8 billion to $10 billion, to $10 billion to $12 billion. Shares closed up 7.13 percent on the day at $18.48, and have been traded in a 52-week range of $10.85 to $17.65.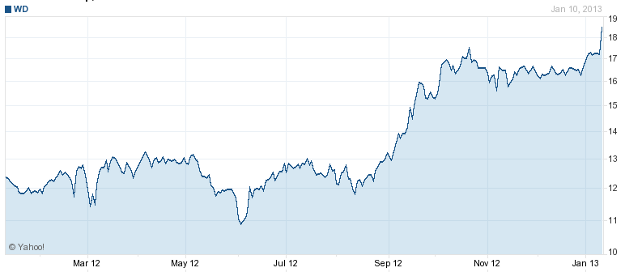 Don't Miss: Post-Fiscal Cliff: Congress Less Favorable Than Cockroaches.