Scientific Games to Acquire WMS Industries and 4 Morning Hot Stocks Moving Now
Apollo Global Management LLC (NASDAQ:APO): Current Price $21.32
Hostess Brands Inc is close to selecting Apollo Global Management LLC (NASDAQ:APO) and C. Dean Metropoulos & Co. for the stalking horse bid valued over $400 million in the forthcoming bankruptcy auction off its Twinkie brand and other cakes. The bid could be bettered by other parties which include Flowers Foods Inc (NYSE:FLO), who has offered $360 million in cash for select Hostess bread brands, 20 plants and 38 depots. Another party, United States Bakery Inc is offering $28.85 billion for another group of bread brands, four bakeries, 14 depots plus equipment. In the event that their stalking horse bid is trumped by another bidder, Apollo Global Management and Metropoulos would get a breakup fee.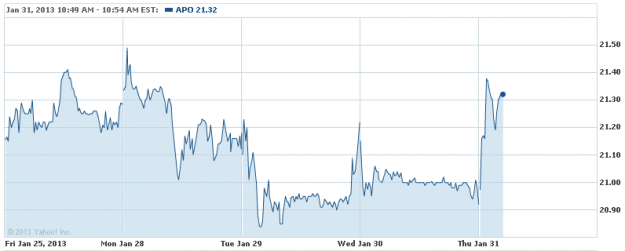 Scientific Games Corporation (NASDAQ:SGMS): Current Price $10.37
Lottery and gaming solutions provider Scientific Games Corporation (NASDAQ:SGMS) has agreed to acquire gaming equipment manufacturer WMS Industries Inc (NYSE:WMS) for $26 per share payable in cash in a deal valued $1.5 billion that includes $85 million debt and $55 million cash on hand. "The acquisition of WMS is transformational for Scientific Games, enabling us to offer a complete portfolio of lottery and gaming products and services to both new and existing customers around the world," said A. Lorne Weil, Scientific Games' Chairman and Chief Executive Officer.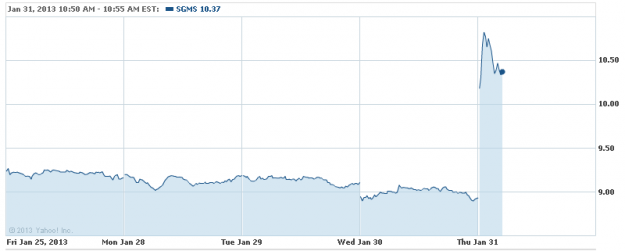 Are these stocks a buy or sell? Let us help you decide. Check out our Stock Picker Newsletter now.
Diageo (NYSE:DEO): Current Price $119.24
After a string of acquisitions in emerging markets, and the collapse of its talks to acquire a stake in tequila brand Jose Cuervo, Diageo (NYSE:DEO) is adopting an organic strategy to create its own tequila brand, according to Reuters. Chief Executive Paul Walsh said, "the main thrust of our attention will be the creation of our brand, not dissimilar to what we have done with Ciroc." Diageo launched Ciroc as a premium vodka brand in 2003, that has proved highly successful.

Barclays Plc (NYSE:BCS): Current Price $19.13
The U.K.'s Financial Services Authority has ordered Barclays Plc (NYSE:BCS) to conduct a review of their sales to small business customers of products designed to reduce their interest rate risk. The review was ordered after the FSA found the banks had breached regulatory rules during their marketing of the products, with the result that customers did not understand the risks involved, and the end product sold to them did not meet their actual needs in many cases. The four banks may have to pay compensation ranging from hundreds of millions of pounds after this review.

Morgan Stanley (NYSE:MS): Current Price $22.81
Morgan Stanley's (NYSE:MS) moves to cut costs by laying off as much as 5% of the institutional security staff in Asia, coupled with its new compensation practice of deferring the payment of bonuses over ensuing years, has probably lead to the exit of David Sutherland, its Chief Financial Officer for the Asia-Pacific region, according to the Wall Street Journal. Anthony Mullineaux has been named as his replacement and will be designated head of Asia-Pacific finance.

Investing Insights: Is Western Union Looking For Love in All the Wrong Places?