Scripps Networks Sees PT Upgrade and 2 Stocks Riding 52-week Highs
Toyota Motor Corporation (NYSE:TM): Closing price $108.71
This year, the 37th Toyota Pro/Celebrity Race grand marshal will be the Dancing with the Stars professional dancer and cast member Maksim Chmerkovskiy, who will bring his ballroom flair to of the long-running, charitable event. Chmerkovskiy will be joined by singer and former American Idol contestant Paul McDonald, who will start the race by performing the national anthem. Shares closed up 2.08 percent on Monday at $108.71, and have been traded between $72.04 and $108.74 on the last 52 weeks.

Scripps Networks Interactive (NYSE:SNI): Closing price $66.89
Shares moved up by 1.5 percent after RBC Capital Markets raised its price target from $66 to $68. RBC bank elevated its first quarter earnings estimate on expectations of higher ad revenue, alongside a "timing shift" of affiliate revenue. Analyst David Bank at RBC wrote in an investor note on Monday that he continues to like shares of Scripps Networks, given its longer-term growth profile, and he rates the stock Outperform. Shares closed up 1.43 percent on the day at $66.89, having been traded in a 52-week range of $45.67 to $67.26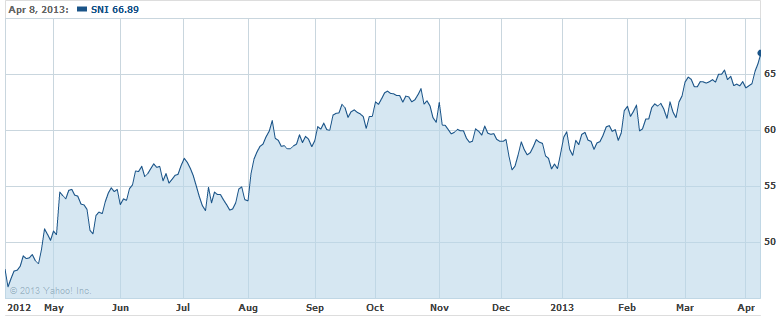 Northrop Grumman Corporation (NYSE:NOC): Closing price $71.72
Northrop Grumman will display a line of worldwide defense and security capabilities, including marine navigation and unmanned ground systems at the Latin America Aerospace and Defense exhibition 2013 in Rio de Janeiro. Vice President and General Manager of Northrop Grumman's Navigation and Maritime Systems Division Teri Marconi said that "We have a strong relationship with Brazil and throughout Latin America, and will continue to work closely with our customers there to provide long-term capabilities to enhance national security." Shares closed up 0.22 percent on Monday at $71.72, and have been traded between $56.59 and $71.88 in the past 52 weeks.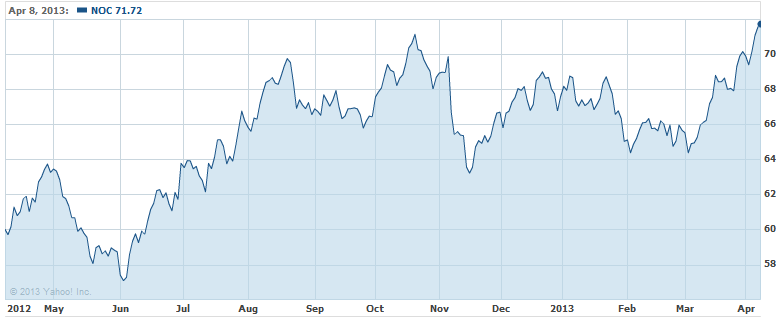 Don't Miss: Alcoa Kicks Off Earnings Season By Beating Expectations.