Sealed Air Corporation Earnings: Costs are Taking a Toll
S&P 500 (NYSE:SPY) component Sealed Air Corporation (NYSE:SEE) reported a lower net income in the first quarter compared with a year earlier, falling below analysts' estimates. Sealed Air Corporation, through its subsidiaries, is a global manufacturer of a variety of packaging materials and equipment systems. Its product brands include Bubble Wrap and Instapak, and these offerings are used in a range of food, industrial, medical and consumer applications.
Don't Miss: Wall St. Cheat Sheet's newest Feature Trades of the Month!
Sealed Air Earnings Cheat Sheet for the First Quarter
Results: Net income for the packaging and containers company fell to $59.7 million (34 cents/share) vs. $61.2 million (35 cents/share) a year earlier. A decline of 2.5% from the year earlier quarter.
Revenue: Rose 6.3% to $1.13 billion YoY.
Actual vs. Wall St. Expectations: SEE fell short of the mean analyst estimate of 38 cents/share. Estimates ranged from 36 cents per share to 41 cents per share.
Quoting Management: Commenting operating performance, William V. Hickey, President and Chief Executive Officer, stated: "Our volume growth reflected continuing recovery in most of our end markets, expanded customer relationships and solid receptivity to our growing portfolio of solutions. We realized 2% in price/mix and expect to recognize additional benefits from a number of new pricing actions taken to offset the approximate $40 million of higher petrochemical-based raw materials and freight costs that occurred in the quarter. These increases were due, in part, to sudden unrest in the Middle East and global commodity price escalation. By the third quarter, we anticipate that our additional pricing actions will yield price/cost parity for that period."
Key Stats:
The company has now seen net income fall in each of the last two quarters. In the fourth quarter of the last fiscal year, net income fell 21.2% from the year earlier quarter.
Over the last five quarters, revenue has increased 6% on average year over year. The biggest increase came in the first quarter of the last fiscal year, when revenue rose 7.4% from the year earlier quarter.
Competitors to Watch: Bemis Company, Inc. (NYSE:BMS), AptarGroup, Inc. (NYSE:ATR), Rock-Tenn Company (NYSE:RKT), AEP Industries (NASDAQ:AEPI), Sonoco Products Company (NYSE:SON), Graham Packaging Co. Inc (NYSE:GRM), UFP Technologies, Inc. (NASDAQ:UFPT), Constar Intl., Inc. (NASDAQ:CNST), and Binh Duong PP Pack Making JSC (HBD).
Today's Performance: Shares of SEE are trading at $25.86 as of April 27, 2011 at 11:08 AM ET, down 2.85% from the previous closing price of $26.62.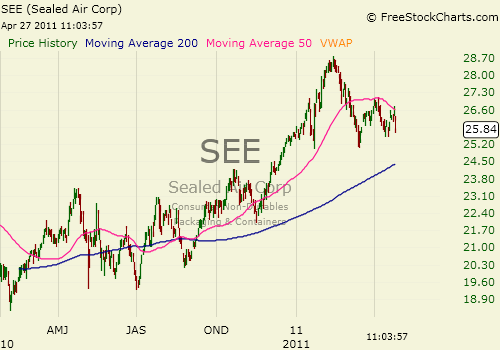 Don't Miss Wall St. Cheat Sheet's newest Feature Trades of the Month!