Sears Unveils Blink Direct Stations and 3 Morning Hot Stocks Moving Now
Harley-Davidson (NYSE:HOG): Current Price $53.55
Harley-Davidson (NYSE:HOG) declares fourth quarter EPS of $0.31 per expectations and revenue of $1.17 billion which is ahead of consensus by $193.12 million. Retail sales of motorcycles grew 7.5% globally during the quarter on a year-on-year basis, comprising 8.4% growth in the US and 6.3% internationally. Keith Wandell, Chairman, President and Chief Executive Officer, said, "The ambitious restructuring of our manufacturing operations, aimed at delivering better responsiveness for customers and greater operating efficiency, is now largely behind us. Motorcycle sales grew in 2012, fueled by exceptional products and retail experiences. Together with our dealers, we grew sales to U.S. outreach customers faster than to core customers, grew U.S. market share and continued to expand internationally." For 2013, the company expects a 4.5%-6.5% volume increase from 2012, and a gross margin of 35.25%-36.25%.

Sears Holdings (NASDAQ:SHLD): Current Price $47.06
Clean electric transportation and storage technology leader, Ecotality Inc (NASDAQ:ECTY) and Sears Holdings (NASDAQ:SHLD) unveiled the first Blink Direct Current Fast Charger stations at several Sears stores in Tennessee and Arizona. Blink DC Fast Charging Stations are able to charge an electric vehicle battery up to 80% capacity in under 30 minutes, which is currently the fastest charging rate. Apart from the fast chargers, Sears also implemented level 2 charging stations at 12 more stores. Sears has exceeded 2000 hours in connection time by customers and associates.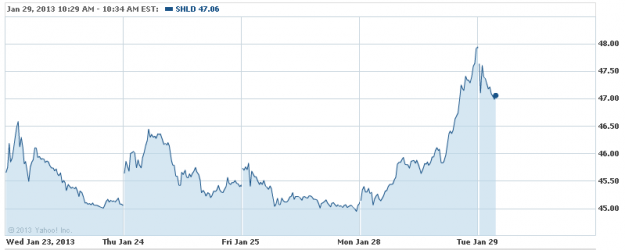 Are these stocks a buy or sell? Let us help you decide. Check out our Stock Picker Newsletter now.
Las Vegas Sands (NYSE:LVS): Current Price $52.31
A smoking ban that came into effect this month at public places in Macau allows casinos to permit smoking in only 50% of the total gaming floor area. Apprehensions that this partial ban could adversely affect gambling revenue appear to have been belied because Average Daily Table Revenue over the past week clocked HK$775 million, which matched revenues last week, but was lower than the first two weeks of the month. The decline could also have been triggered by the pre-Chinese New Year timing. This, taken with a likely resurgence in traffic during the Chinese New Year, could favorably affect the fortunes of casino companies having operations in Macau, such as Melco Crown Entertainment (NASDAQ:MPEL), Las Vegas Sands (NYSE:LVS), MGM Resorts (NYSE:MGM) and Wynn Resorts (NASDAQ:WYNN).

Berkshire Hathaway Inc (NYSE:BRKA): Current Price $146,599.98
Berkshire Hathaway Inc (NYSE:BRKA) has filed a shelf registration statement on Form S-3 indicating its intention to float an issue of senior unsecured debt. The amount of the offering and plans for its utilization have not been disclosed.

Don't Miss: What's Driving Yahoo's Stock Up?