SeaWorld Launches Big IPO and 2 Other Hot Stocks to Watch
SeaWorld Entertainment (NYSE:SEAS): Current price $32.87
On the morning of SeaWorld's IPO, shares jumped over 17 percent on the New York Stock Exchange, following the offering being priced at the high end of expectations. The stock opened at $30.56, up 13 percent from the $27 offer price, and shares were trading at $31.64 by late Friday morning. The firm anticipated that the deal would price between $24 and $27 Thursday, when SeaWorld's private equity owner, The Blackstone Group, said that it planned to sell more shares than previously announced. All told, SeaWorld and Blackstone offered 26 million shares, not including the underwriter's option; the initial public offering was valued at $702 million.
Microsoft Corporation (NASDAQ:MSFT): Current price $29.71
On Friday, the firm hosted the kickoff event for its Microsoft YouthSpark initiative in Atlanta by bringing in over 150 leading educators, government officials and nonprofits to assess the condition of youth education in the area. As part of the YouthSpark Atlanta intro, Microsoft inked an education alliance accord with Morehouse College, one of the top private Historically Black Colleges and Universities in the United States.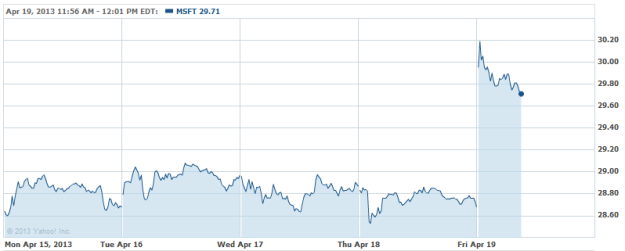 Vertex Pharmaceuticals Incorporated (NASDAQ:VRTX): Current price $83.33
Following the close on Thursday, Vertex announced positive results from a treatment it was testing for cystic fibrosis patients, prompting the shares to gain over 50 percent within minutes. Analyst Michael Yee at RBC Capital Markets said in a note to clients early on Friday that the tests make it more probable that a CF treatment will be successful when the drug goes into phase 3 testing in 2014. He now places the chances of successful testing at 75 percent and believes that a potential combination drug could bring $4 billion or more for the firm.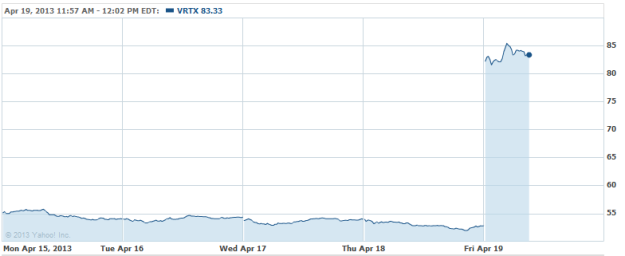 Investing Insights: Is Eastman Chemical a Bargain Here?