SeaWorld Makes Big Splash on Wall Street
Wall Street received some good wholesome entertainment before the weekend, as SeaWorld Entertainment (NYSE:SEAS) went public.
Late Thursday, the theme-park operator best known for its performing killer whale Shamu raised $702 million in its initial public offering. It sold 26 million shares at $27 each, coming in at the high end of the $24 to $27 expected price range. Goldman Sachs (NYSE:GS) and JPMorgan Chase (NYSE:JPM) were the lead underwriters on the deal.
Advisory firm Blackstone Group (NYSE:BX) was the sole owner of SeaWorld and will still maintain a stake of more than 70 percent after the IPO. Ten million shares of the offering came from the theme-park, while the other 16 million came from Blackstone. Apollo Global Management (NASDAQ:APO) and Onex Corp. previously made takeover bids for SeaWorld, but Blackstone rejected the offers.
The private-equity firm acquired SeaWorld from Anheuser Busch InBev in late 2009 for $2.9 billion. After underwriting discounts and commissions, SeaWorld will receive $254.4 million from the IPO. It plans to use $140 million to redeem senior notes, $47 million to terminate a management advisory agreement, and $37 million to repay a senior secured term loan.
Shares spike…
SeaWorld made its debut on the New York Stock Exchange early Friday. Shares surged more than 19 percent in the first few hours of trading to reach nearly $33. Other entertainment companies such as Six Flags Entertainment (NYSE:SIX) and Cedar Fair (NYSE:FUN) also climbed higher.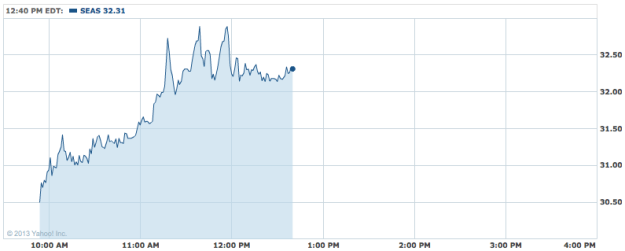 Credit Suisse initiated coverage on Six Flags with an Outperform rating and a price target of $87.
Analyst Joel Simkins explains in a note, "SIX is one of the world's leading regional theme park operators, with 19 locations drawing almost 26m visitors in 2012. Following its re-emergence in April 2010, SIX has been revitalized by management setting and achieving intermediate and long-term objectives. Additionally, SIX is benefiting from upgraded parks, improved marketing (local and social), a renewed focus on pricing (less discounts, premium offerings, season passes), operating efficiencies, and a healthier balance sheet."
Don't Miss: McDonald's Fails to Deliver Happy Meal to Investors