Sector Spotlight: Technology Bounces Off Resistance
Lately, the Technology sector (NASDAQ:QQQQ) has been a bit wobbly. Even strong earnings from tech idol Apple (NASDAQ:AAPL) couldn't push the rally to the next level.
However, after the weekend break, technology is outperforming after a strong bounce off resistance at Nasdaq 2,690: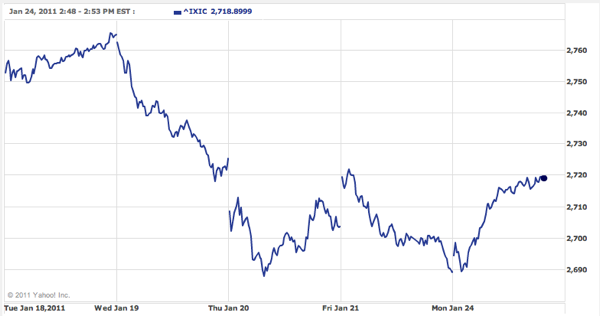 Intel (NASDAQ:INTC) is the leader of the charge. The semiconductor company announced an increased dividend and share repurchase program. Shares are up 1.5%.
Top 5 Most Active Stocks
The Top 5 Most Active Stocks in the technology sector are:
Top 5 Biggest Gainers
The Top 5 Biggest Gainers in the technology sector are:
Top 5 Biggest Losers
The Top 5 Biggest Losers in the technology sector are:
Don't Miss: Spec Money Exits Gold & Silver but Remains Heavily Long Other Markets >>
Improve Your 2011 Financial Health: Join the winning team of stock pickers with Wall St. Cheat Sheet's acclaimed premium newsletter >>