See Which China IPO is Trending Up
Lost in the Youku.com (NYSE:YOKU) hype was e-Commerce China Dangdang (NYSE:DANG). After the initial IPO spike, the stock fell back to where it first opened at on its IPO day. I curtailed all trading activity December 3rd to focus on launch of the fund, but I said on December 16th this is where I'd be happy to make some speculative purchases if I were active in the market. This comment came when DANG was a touch over $25.
I'd be interested in taking some shots here or there in building a position with the caveat that if the market ever corrects again this type of stock can lose 10-15% in a day very easily. If DANG is treated in the investing community like say a Baidu.com (NASDAQ:BIDU) it will never be 'cheap' in traditional terms – it will simply waver from very expensive to quite expensive. (BIDU has a far more profitable business model.)
The chart back then …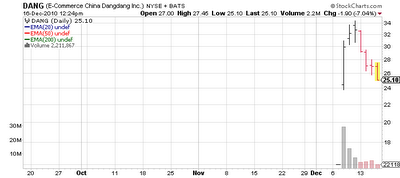 The chart now …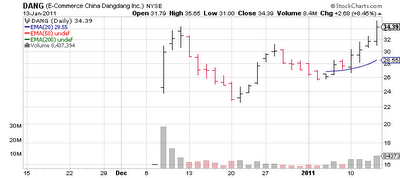 Yesterday, the stock closed over $34, so in just under a month, it is up close to 40%. The quiet period for the underwriters ends Monday so expect the normal Wall Street game of "buy buy buy our awesome IPO!!" (no conflict of interest of course). If active, I would be selling a large portion of the position I would have created in mid December (at least 2/3rds) into the lemmings running into the stock on the brokers' recommendations coming in a few days. The valuation remains ridiculous but hey, it's 1999 redux so valuation is for weenies.
Next we prepare for "the Facebook of China" IPO, RenRen, which hopefully will come public sometime in Q1 2011. Of course that would be married with the "Twitter of China" (Weibo), which is inside Sina (NASDAQ:SINA) for the long(er) term. One day we'll look back and laugh at the valuations we imparted on all things social media, but for now we dance.
This is a guest post written by Trader Mark who runs the blog Fund My Mutual Fund.
Don't Miss: Chinese IPO Explosion: iSoftStone Soars 30% after Youku and DangDang Shoot the Moon>>
Improve Your 2011 Financial Health: Join the winning team of stock pickers with Wall St. Cheat Sheet's acclaimed premium newsletter >>