See Why News Corp. Shares Are Down
Despite the fact that Needham & Company issued a $20 price target for News Corp. (NASDAQ:NWSA) shares today and maintained the stock as a "Buy", shares are down 4.55% to $17.31. The media company is coming under fire for its British tabloid, News of the World, which has been accused of hacking into the cell phone of Milly Dowler, a 13-year-old girl when went missing in 2002. The tabloid reportedly listened to Dowler's voicemail messages, ultimately deleting older messages as the mailbox began to fill up, which complicated the police investigation into Dowler's disappearance.
While News Corp. shares have been steadily increasing since mid-June, the controversy is reportedly costing News of the World advertising revenue, with Ford (NYSE:F), Cooperative Group, Vauxhall, Lloyds Banking Group (NYSE:LYG), and Virgin Holidays all suspending advertising in the tabloid after news of its alleged hacking emerged.
Get Actionable Investing Insights: Check Out Wall St. Cheat Sheet's newest Feature Trades of the Month!
The paper has gotten attention lately for other supposed hacking campaigns against politicians, celebrities, and even members of the British royal family. If these claims, particularly those involving Milly Dowler, can be substantiated, News of the World could be facing legal action, possibly even criminal charges for obstructing a police investigation.
However, the tabloid has been declining for some time, its readership down by a third from 2000, to 2.7 million. Overall, News Corp.'s newspaper division, which includes profitable papers in the United States and Australia as well as The Sun in Britain, only contributed roughly 13% of News Corp.'s 2010 operating profits, and that part of the media company's empire continues to decline, as does the industry at large. Recent headlines in the case of Milly Dowler may only be bringing attention to some of News Corp.'s less valuable assets, those that are both bringing in little revenue, and could be costing the company its reputation.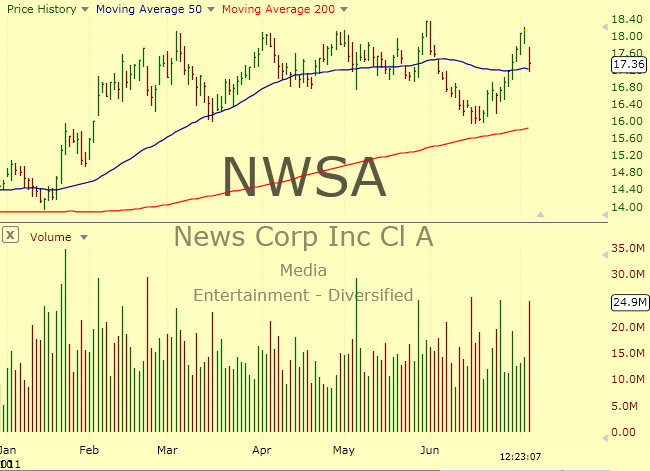 Even taking into account today's drop, News Corp.'s (NASDAQ:NWSA) stock is still up 43.87% over the last year, slowly recovering from the financial crisis when shares dropped as low as $5.31. In 2010, the company's EVA Momentum, which measures its profit, after deducting capital costs, divided by sales, was up 27% over 2009. And EVA increased from a negative $9.5 billion in 2009 to a negative $1.1 billion in 2010.
But the company's most recent earnings report disappointed, showing earnings of 26 cents a share, one cent below what analysts had predicted.  News Corp. also has a high debt-to-equity ratio of 0.55 and has $13.2 billion in long-term debt. It's under-performing in the industry at large, where the average debt-to-equity ratio is 0.45 and the return on equity over the last five years is 7.9% compared to News Corp.'s 7.6%.
Competitors to Watch: News Corporation (NASDAQ:NWS), The Walt Disney Company (NYSE:DIS), Time Warner Inc. (NYSE:TWX), The New York Times Company (NYSE:NYT), Gannett Co., Inc. (NYSE:GCI), CBS Corporation (NYSE:CBS), The E.W. Scripps Company (NYSE:SSP), Journal Communications, Inc. (NYSE:JRN), and Pearson PLC (NYSE:PSO)
Get Actionable Investing Insights: Check Out Wall St. Cheat Sheet's newest Feature Trades of the Month!