Sequestration and Obamacare Pushed Up Job Cuts in June
While job cuts have declined overall, four of the five industries that experienced the heaviest layoffs this year have seen job cuts increase by an average of 60 percent. Of the these top five job-cutting sectors, financial services had the heaviest downsizing and the largest year-over -year increase, rising 82 percent to 36,762. The retail sector followed with 32,900 cuts in 2013, up 38 percent from 2012, and then the health care sector, where downsizing increased 62 percent to 22,951.
"So far, most of the job cuts related to health care reform have come from health care providers adjusting to lower Medicare reimbursements and state Medicaid cutbacks," said John Challenger, CEO of Challenger, Gray & Christmas, in the firm's monthly job report. "As 2014 approaches, we could see more cuts related to health care reform as smaller employers, who are mandated to provide coverage if they have 50 or more full-time workers, cut the number of workers and/or hours to remain under the 50-worker threshold."
Recent data suggest that fiscal belt-tightening occurred as a result of the $85-billion spending cuts implemented at the beginning of March. Sequestration did play a role in the downsizing to some degree: To date, Challenger has attributed 10,253 job cuts related to sequestration and other federal spending cuts, with the largest portion of layoffs coming from the aerospace and defense sector, which announced 4,366 job cuts between January and June.
 "As for sequestration cuts, we are already seeing layoffs stemming from the mandated cuts in federal spending," his report said. "These cuts could go on well in to 2014, as private-sector firms with government contracts start to feel the impact as current contracts expire."
In Challenger's estimation, even if job cuts related to sequestration and health care reform increase, it is unlikely that the overall pace of downsizing will see a significant surge in the second half of the year.
At the year's halfway mark, data point to a noticeable slowdown in job cuts during the first six months of 2013. Compared to June last year, the pace of downsizing has dropped 8.5 percent. Employers announced 258,932 job cuts from January through June; that six-month total is the second lowest since 2000, when employers cut 223,421 jobs in the same period. The lowest-six-month tally since 2000 came in 2011.
"The economy is picking up speed with housing and manufacturing staging comebacks," said Challenger. "Threats to job security still exist, however, in the form of federal spending cutbacks stemming from sequestration as well as potential fallout from implementation of health care reform."
Employers reduced their workforces by 39,372 in June, an increase of 8.2 percent from the 36,3998 cuts reported for May.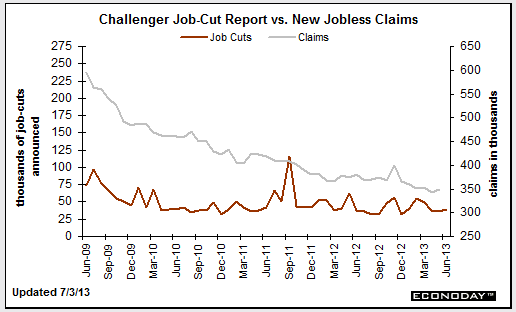 Follow Meghan on Twitter @MFoley_WSCS
Don't Miss: 5 Sequester Predictions That Didn't Come True.