Shop Smart: What to Buy From Warehouse Clubs to Dollar Stores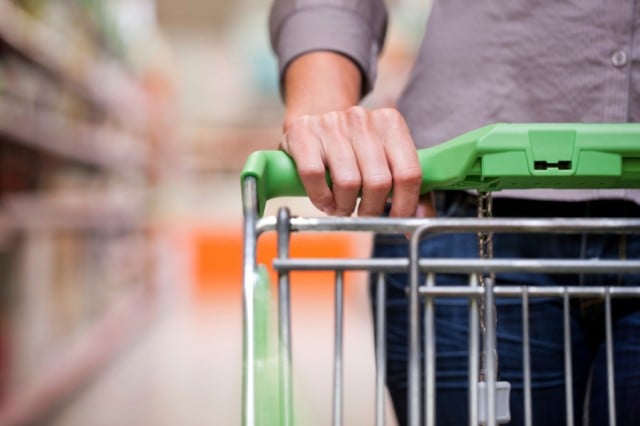 Groceries are expensive. If you're not careful, your monthly food bill can easily wreak havoc on your budget. On the flip side, if you approach grocery shopping with a game plan, you can start saving some serious money each month. By knowing which stores offer you the best savings, you can effortlessly cut down on your food bill. Here's a look at what you should be buying in bulk, purchasing at the neighborhood grocery store, and looking for at a discount retailer.
What to buy at warehouse clubs
Warehouse clubs aren't the place to stock up on five pounds of fruit or a lifetime of bread. But if you focus on purchasing things in bulk that won't spoil, you can save a lot of money. In fact, after you pick up a membership at Sam's Club, BJ's Wholesale Club or Costco, which typically have annual fees of $40 to $50, you'll have access to many items that are well below the prices offered at grocery stores. So what should you be looking for in bulk?
Paper products: This includes toilet paper, paper towels, napkins, and any other paper products you use. Consumer Reports writes that shoppers can save 45 percent more by purchasing napkins at a warehouse and 43 percent more by purchasing paper plates there. You don't need to worry about paper products spoiling, so stock up and find a place to store the extras.
Alcohol: Go ahead and load up on alcoholic beverages. A lot of hard alcohol has an extremely long shelf life if you store it in a cool, dark place. Your savings? According to Consumer Reports, you can save 35 percent or more on hard liquor and 25 percent on beer. Additionally, How Stuff Works says that in certain states, you don't even need to pay the annual membership fee to purchase alcohol at a warehouse club.
Toothbrushes: Purchasing toothbrushes in bulk can save you up to 50 percent, according to Learn Vest. Rather than buy two toothbrushes for $8, you can pick up six for $14. While you're there, throw in some toothpaste, too. You can purchase three tubes for $10, compared to one tube at a grocery store for around $5.
Nonperishable items: Items such as canned or boxed goods can quickly create big savings when you purchase them at a warehouse. On average, you can expect to save about 30 percent by buying these items in bulk. Also look for items such as rice and cereal — they're money savers, too. In fact, U.S. News & World Report writes that you can save 20 percent on white rice by purchasing it at a warehouse. If you buy 50 pounds of white rice at a warehouse at about 40 cents per pound, you're saving more than 10 cents per pound compared to supermarket prices. 
Detergent: U.S. News & World Report says you can save up to 17 cents per load by purchasing a giant container of detergent, which amounts to a 40 to 50 percent savings when you buy in bulk. Since washing your clothes is a necessity, you might as well save as much as you can on it.
Buying at grocery stores
Grocery stores are infamous for carrying overpriced items, so let's first take a quick look at what you shouldn't buy at a grocery store. Never pick up hardware, cookware or toys, and try to avoid household items — they're typically extremely overpriced. There are, however, several budget-friendly items that are worth picking up at grocery stores. Here's what you should be looking for.
Milk and eggs: A Kiplinger article states that many grocers keep everyday staples relatively cheap so that shoppers think the store has fair prices. Don't be fooled by this, though. This is actually a marketing technique used to lure in shoppers to get them to pay more for other products, so avoid their trap and just go in to pick up the items on your list. When shopping for milk and eggs, keep an eye out for the store's brand: it's often the cheapest.
Clean produce: Organic is expensive. To get as close as you can to organic produce (without actually buying organic), aim for the clean 15 vegetables and fruits that the Environmental Working Group has deemed as having little or no traces of pesticides. Pick up plenty of  non-organic onions, avocados, sweet corn, pineapples, mango, sweet peas, asparagus, kiwi, cabbage, eggplant, cantaloupe, watermelon, grapefruit, sweet potatoes, and sweet onions. You can often get the clean 15 for pretty reasonable prices. 
Generic staples: Look for staples such as flour, salt, and sugar. Here's the trick: Always purchase the generic equivalent. It typically tastes the same but just comes in a different package. Unless your fancy flour label is important to you, it's always best to go the generic route. Avoid picking these items up at a convenience store, drug store or dollar store — you will end up paying more for them because they have limited quantities.
Buying at dollar stores
Turns out, dollar stores really do carry items that only cost a dollar. Here are some of the deals you should keep an eye out for the next time you stop by a discount retailer.
Cleaning supplies: Kiplinger reports that dollar-store cleaning items cost about 30 percent less than name brand cleaners. Just one thing to keep in mind: These cleaners can sometimes be a bit more diluted, so you may have to use a little more.
Gift wrap and bags: These items are much cheaper than what you'd find at big box stores such as Wal-Mart and Target. Is it going to be the fanciest wrapping paper? Probably not. But there's a pretty good chance it's going to be ripped up and thrown away, no matter what type you buy. You can also pick up large gift bags for $1, rather than pay $5 at other retailers, Kiplinger says.
Greeting cards: According to KHSB, you can get greeting cards for 50 cents to a $1 at discount retailers, a much better price than the $5 a greeting card can cost at Target or grocery stores. 
More From Wall St. Cheat Sheet: