ShoreTel Named by Golden State Warriors and 2 Stocks at 52-Week Lows on Wednesday
ShoreTel (NASDAQ:SHOR): Closing price $3.37
ShoreTel said that it was selected by the Golden State Warriors to support front office and contact center operations. The firm will supply the Warriors with a more efficient call center solution , so as to improve customer experience. ShoreTel is a provider of unified communications platforms that include business phone systems, applications and mobile UC solutions. Shares closed down 0.88 percent on Wednesday at $3.37, and have been traded in a 52-week range of $3.35 to $5.31.

Vocus (NASDAQ:VOCS): Closing price $8.38
Vocus has reported its second-quarter guidance for revenue between approximately $45.1 million and $45.5 million. Non-GAAP earnings per share should be in the range of 2 to 3 cents, assuming an estimated tax provision of $450,000. Non-GAAP adjustments are expected to be at 32 cents. GAAP earnings is anticipated to be between 34 and 35 cents, assuming an estimated weighted average 20.1 million basic and diluted shares outstanding. Shares closed down 37.13 percent on the day at $8.38, having been traded in a 52-week range of $12.34 to $20.64.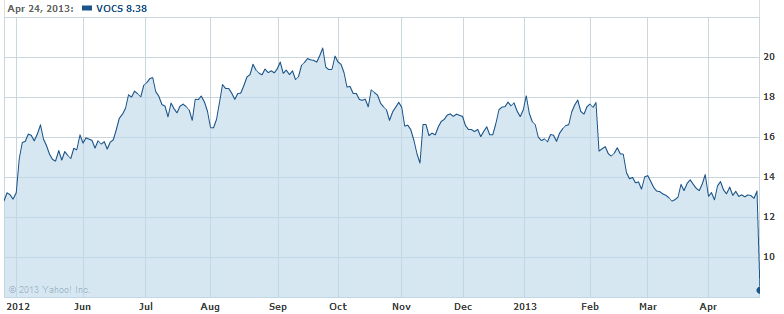 Volcano Corporation (NASDAQ:VOLC): Closing price $20.27
Volcano announced that it will report its operating results for the first quarter of fiscal 2013 on May 2,  and will conduct a conference call to discuss its financial results and operating activities, open to all interested parties at 2 p.m., Pacific Daylight Time on the same date. President and Chief Executive Officer Scott Huennekens and Chief Financial Officer. John Dahldorf will be on hand for the questions and answers. Volcano is a developer and manufacturer of precision guided therapy tools created to enhance the diagnosis and treatment of coronary and peripheral vascular disease. Shares closed down 1.12 percent on the day at $20.27, and have been traded in a 52-week range of $20.15 to $30.59.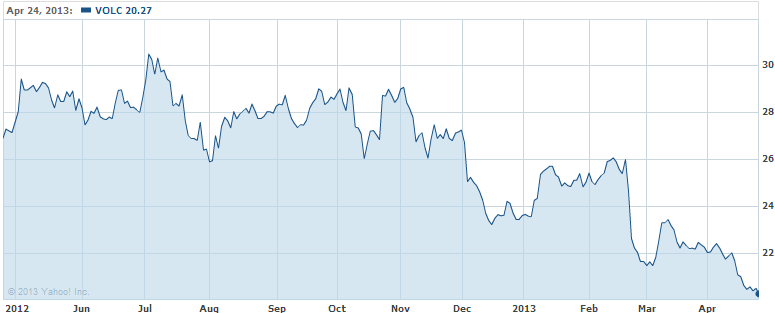 Investing Insights: Should ConocoPhillips Be In Your Portfolio?