Should Home Price Increases Concern or Please Policymakers?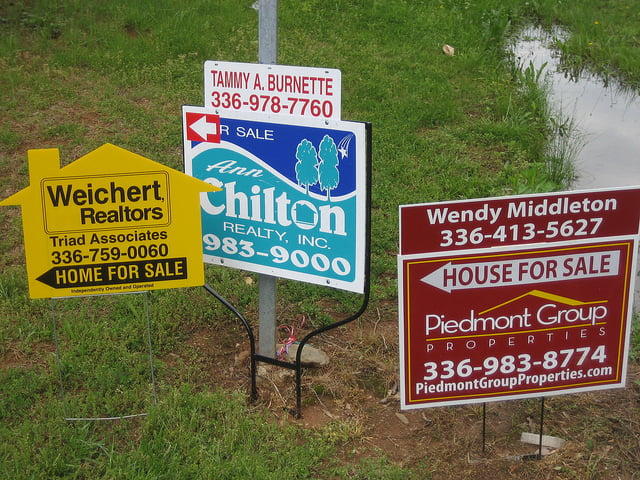 In the housing market, growing demand is boosting value; on an annual basis, during the month of August, housing prices increased by the greatest percentage since February of 2006 — when the market was amidst the last heady days of the housing bubble.
The S&P/Case-Shiller home price index of property prices in the 20 largest United States metropolitan regions rose 12.8 percent in the twelve-months ended in July. Yet, the report contained a sign that the housing market's rapid-fire gains have begun to cool. Home prices in those 20 cities inched up only 1.3 percent from July, falling in line with a trend that began in April of this year, when monthly home-price increases peaked.
In typical fashion, the Western United States led the gains. Las Vegas experienced the largest annual increases, with home prices jumping 29.2 percent from the same month last year. Comparatively, in San Francisco, prices rose 25.4 percent, while prices increased 21.7 percent in Los Angeles and 21.5 percent in San Diego.
"Since [April] home prices continued to rise, but at a slower pace each month. This month 16 cities reported smaller gains in August compared to July. Recent increases in mortgage rates and fewer mortgage applications are two factors in these shifts," David M. Blitzer, chairman of the index committee at S&P Dow Jones Indices, said in a statement.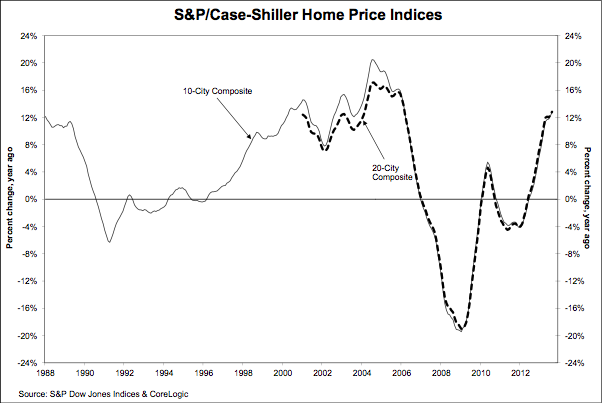 At the beginning of the year, the housing market recovery gained momentum as pent-up demand spilled over and families and investors, convinced the bottom of the market had indeed passed, began purchasing homes in earnest. With the supply of available homes low, prices rose dramatically, forcing potential homebuyers to battle over the available properties. The result were red-hot markets in some regions of the United States, and the concern that a new housing bubble was forming grew.
To some degree, rising mortgage rates have slowed the rate of price increases. As rising interest rates have pushed up mortgage rates, homes have become less affordable, lessening demand and, as a result, keeping prices from skyrocketing even higher. August's 1.3 percent increase was only half the monthly increase posted in April, when mortgage rates were near a record low.
Between April and August, the average rate on a 30-year fixed-rate mortgage increased by more than a full percentage point, according to Freddie Mac, hitting a high of 4.58 percent in August. Slow growth in wages and limited job creation have also put the brakes on rising prices. Employers added an average of only 143,000 jobs per month from July through September, a decrease from the 182,000 jobs per month added from April through June and 207,000 in the first three months of 2013.
Comparing the latest sales of detached houses with previous numbers, the Case-Shiller Index is widely considered to be the most reliable measure of the housing market, but it is by no means the only gauge. It trails many other market indicators, and more recent data releases show that the housing market's gains have slowed much more sharply than the Case-Shiller data indicate.
After reaching their best level in nearly four years, existing-home sales declined last month as affordability issues continued to hinder demand. The National Association of Realtors announced last week that total existing-home sales — completed transactions of single-family homes, town homes, condos, and co-ops – fell 1.9 percent to a seasonally adjusted annual rate of 5.29 million units in September. In comparison, August showed a downwardly revised annual rate of 5.39 million units.
The Pending Home Sales Index, a forward-looking indicator based on contract signings, plunged 5.6 percent to 101.6 in September compared to a downwardly revised 107.6 in August, according to the National Association of Realtors. After posting its strongest pace since 2006 in May, the index has now declined for four consecutive months to reach its worst level since December. While the data, like the Case-Shiller index, cover the month of August, they beget this question: Is the real estate market receiving a course correction?
Lawrence Yun, the National Association of Realtors's chief economist, believes affordability was the biggest issue, while government shutdown concerns may have added to the weakness. "Declining housing affordability conditions are likely responsible for the bulk of reduced contract activity," he said. "In addition, government and contract workers were on the sidelines with growing insecurity over lawmakers' inability to agree on a budget. A broader hit on consumer confidence from general uncertainty also curbs major expenditures such as home purchases."
Investors and policymakers want a strong housing market because it creates jobs and stimulates the local economy. For example, the National Association of Home Builders calculated that when housing was at its high point, in 2005, construction of new homes contributed $768 billion to the U.S. economy.
For reference, by the first quarter of 2008, that figure had declined by 33.9 percent. Building a new home, the National Association of Home Builders says, creates jobs for local construction crews; it also increases city and state revenue through new taxes, generates flow of money within the local economy, and creates employment opportunities for industries related to new homes like utility work. CoreLogic, a company that provides financial and consumer information, released real estate-specific jobs data after the delayed release of September's job numbers that showed employment in construction rose 3.2 percent, in-home improvement retail stores increased 3 percent, and mortgage brokers jumped 6.2 percent.
But even though rising prices signal stronger demand, which is a good sign for the economy, over-inflated housing prices can cause disaster. Rising sales and prices are factors that Dallas Fed President Richard Fisher cited when explaining that the U.S. may be approaching another bubble.
"I'm beginning to see signs not just in my district but across the country that we are entering, once again, a housing bubble," Fisher told Reuters after a recent speech in New York. "So that leads me … to be very cautious about our mortgage-backed securities purchase program." The bursting of the mortgage market bubble was partly responsible for the financial crisis and the 2007-2009 recession, from which the United States economy is still recovering.
But Realtor.com's National Housing Trend Report indicates that the market is stabilizing. Furthermore, CoreLogic suggested that housing prices are rising for the right reason: demand.
Follow Meghan on Twitter @MFoley_WSCS
Don't Miss: Congress Sends This Economic Indicator to 6-Month Low.