Should Investors Heed Caution on This Housing Report?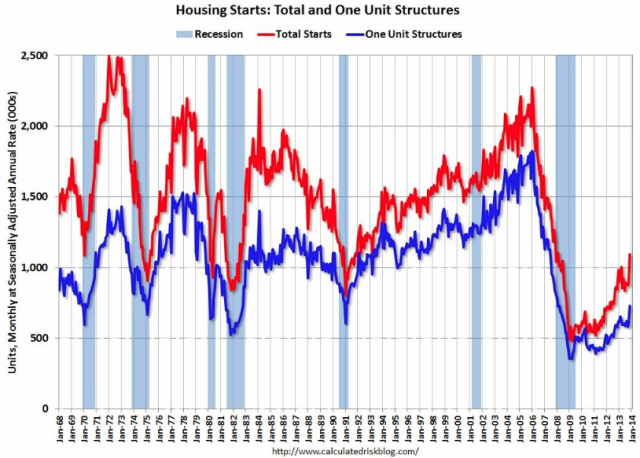 Housing affordability levels continue to receive pressure from rising interest rates and higher home prices, but housing starts in the United States were better than expected last month. Builders broke ground on houses at a seasonally adjusted annual rate of 1.09 million units in November, up 22.7 percent from October, according to the U.S. Department of Commerce.
It was the biggest jump in housing starts since January 1990, and the highest level since February 2008. Compared to last year, housing starts are up nearly 30 percent. On average, economists expected overall housing starts to increase to a rate of 950,000 units in November. Single-family housing starts, the largest segment of the market, surged 20.8 percent in November to an annualized rate of 727,000 units. It was the second consecutive month of gains for single-family housing starts. However, not every component of housing starts warrant optimism.
Despite the impressive numbers, there are caveats to the report that investors should not overlook. Breaking ground on multi-family homes with at least five units jumped from 281,000 units in October to 354,000 units in November, indicating that builders expect the rental market to remain strong. This seems reasonable given the weak labor market and skyrocketing home prices.
Furthermore, new building permits — an indication of future demand — declined 3.1 percent from October to a seasonally adjusted annual rate of 1.01 million units. Meanwhile, the unadjusted rate plunged 21 percent to log its biggest monthly drop in five years and reach its worst level since February.
Construction began on 780,000 units in 2012, a significant increase from 608,800 units in the prior year, but still below the historic average of 1.5 million new homes per year since 1959. Housing starts peaked at 2.27 million units in early 2006, while the pace of home construction reached its low point in 2009, below 500,000 units.
Don't Miss: 5 Reasonable Economic Predictions for 2014
Follow Eric on Twitter @Mr_Eric_WSCS