Should Investors Turn to Meat Instead of Peanut Butter?
The US Department of Agricultural recently announced that peanut prices are going nuts.  The agency estimates that the current spot price for a ton of unprocessed Runner peanuts is at $1,150 per ton.  Runner peanuts are commonly used for peanut butter, and spot prices just last year were around $450 per ton. Another hot dry summer has crushed peanut crops. Furthermore, more farmers focused on higher priced crops such as cotton (NYSE:BAL).
Insight: Solyndra Sparks Criticism Over Government Subsidizing Green Energy.
When you have tight supply, prices typically increase.  When you have more price increases paired with already higher commodity costs and narrowing margins, you have consumer price increases.  The WSJ reports that wholesale prices for big-selling Jif (NYSE:SJM) are going up 30% starting in November, while Peter Pan (NYSE:CAG) will raise prices as much as 24% in a couple weeks.  Unilever (NYSE:UN), which makes Skippy, wouldn't comment on its pricing plans, but a spokesman for Wegmans Food Markets, the closely held supermarket chain in the Northeast US, said whole sale prices for all brands it carries, including Skippy, are 30% to 35% higher than a year ago. Kraft (NYSE:KFT) recently entered the peanut butter market when it launched Planters peanut butter in June.  However, the company will already have to raise prices by 40% on October 31st.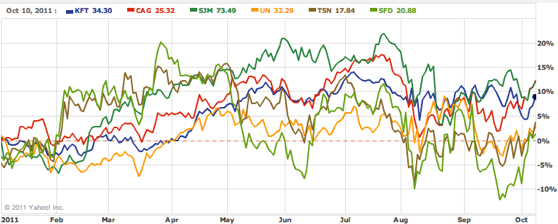 The chart above compares the major food giant and Dow (NYSE:DIA) component Kraft (NYSE:KFT) to peanut butter plays such as ConAgra (NYSE:CAG), JM Smucker Co. (NYSE:SJM), and Unilever NV (NYSE:UN).  The peanut butter makers have seen simlar returns year-to-date, with the exception of Unilever, which has underperformed competitors. The chart also compares two meat companies, Tyson Foods (NYSE:TSN) and Smithfield Foods (NYSE:SFD).
Hot News: Will Investors Hang Up on Sprint?
Although Tyson Foods and Smithfield Foods have been underperforming their peanut butter protein competitors, things could change with Bank of America's (NYSE:BAC) recent outlook change.  The bank raised its rating on both companies from underperform to buy.  Shares of Tyson Foods and Smithfield Foods jumped 2% and 3%, respectively. Investors who are concerned about rising peanut prices should consider other food plays that are receiving upgrades and growing margins. On Tuesday, Goldman Sachs (NYSE:GS) upgraded  General Mills (NYSE:GIS), while Wells Fargo upgraded Sara Lee (NYSE:SLE).
Get our price targets for commodities related investments >>