Should Policymakers Be the Bubble Police?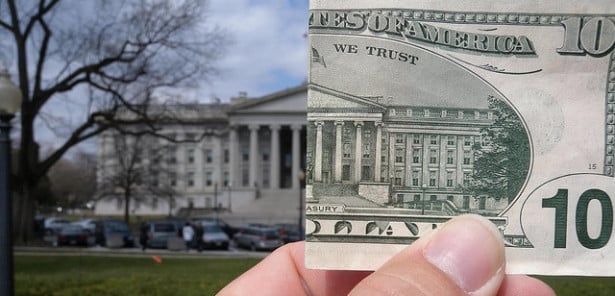 Friday's jobs report was a flop. In August, as in July, the employment situation report fell short of providing convincing evidence that the labor market was returning to full health. The United States economy added fewer jobs than economists expected and the unemployment rate ticked down, largely as the result of job hunters dropping out of the labor force. The share of working-age Americans who were employed or looking for work fell to 63.2 percent last month, its lowest level since 1978.
The headline unemployment rate did technically decline on the month, from 7.4 percent in July to 7.3 percent in August, but economists have largely blown right past it. Headline unemployment can often paint a rosier picture of labor market conditions than is warranted, and if observers stopped here, they would walk away with the wrong impression.
The headline rate declined — but much of the reduction can be attributed to the decline in the labor force participation rate. And, if hundreds of thousands of people leaving the labor force wasn't enough to undermine optimism — participation is down from pre-recession levels of about 66 percent. Payrolls for July were revised down enormously from 162,000 to 104,000.
"For those that focus on the unemployment rate," commented PIMCO co-founder Bill Gross on "Bloomberg Surveillance" on Friday, following the report, "they would simply suggest we are closer to tapering and closer to a fed funds increase at some point. But I would suggest otherwise, that it is really a weaker economy as evidenced by today's report."
Gross manages Pimco's Total Return Fund, the world's largest bond fund, and his musings on the economy are particularly well received. Over the past few months, he has been somewhat critical of the asset purchase program championed by the U.S. Federal Reserve, saying in a September letter to investors that easy money policies have begun to experience diminishing returns and have begun to pervert the "real economy."
Speaking Friday about quantitative easing, Gross suggested a catalyst for tapering that has been absent from most Fed communication. He suggested that, "The taper is really a factor not necessarily of the growth or the strength of the economy, but the fact that at some point, three to six months ago — Governor Stein, for instance — wrote about the impact that tapering and QE is having on risk assets and the potential for a bubble. So I think the fed is really focused on de-bubbling risk markets in terms of a frenzied narrowness of spreads, or even a frenzied peak in terms of equity prices."
Jeremy Stein, who joined the board of governors in 2012, has earned himself a reputation as something of a "bubble cop." In February of this year he delivered a speech at a research symposium on overheating in credit markets. He outlined the Fed's strategy of identifying and reacting to potential bubbles — a strategy that is actually somewhat unorthodox. For a long time, the Fed took the position that it should not — or could not — do anything to prevent bubbles or curb their growth and instead should only clean up the mess left after they burst.
Stein's speech suggested that yes, in fact, the Fed could decide to act in such a way that would cool down overheated markets. "One of the most difficult jobs that central banks face is in dealing with episodes of credit market overheating that pose a potential threat to financial stability," Stein concluded in his February speech.
"As compared with inflation or unemployment, measurement is much harder, so even recognizing the extent of the problem in real time is a major challenge. Moreover, the supervisory and regulatory tools that we have, while helpful, are far from perfect." That said, consideration for asset bubbles may score just as high as consideration for employment and inflation in managing monetary policy.
Don't Miss: Are These 10 CEOs the Biggest Disappointments on Wall Street?