America's budget deficit increased from $97.6 billion in July to $147.9 billion in August, according to the U.S. Treasury Department, about 22 percent lower than August of last year. Total receipts increased 3.6 percent on the year to $185 billion, while total outlays declined 9.8 percent to $333 billion.
This year to date, total receipts of $2.472 trillion are about 13 percent higher than the same period in 2012. Meanwhile, total YTD outlays have declined about 3.7 percent to $3.227 trillion. The YTD deficit is $755 billion, 35 percent below its level at this time last year. The U.S. is on track to log a deficit of below $1 trillion, a milestone set by many policymakers during the fiscal cliff negotiations, and one welcome windfall from the sequestration. Keep in mind — the government's fiscal year ends in September.
Individual income taxes collected are up 15.8 percent YTD while corporation income taxes collected are up 16.1 percent. Social insurance and retirement receipts are up about 17.8 percent YTD.
At a glance, it's easy to see that the the U.S. budget deficit this year is much tamer than last. A combination of tax increases and spending cuts — however awkward each has been — has helped steer the U.S. in the direction of fiscal responsibility.
But despite the budget's improving condition, the Treasury is still engaged in extraordinary financing measures to avoid hitting the debt ceiling once again. "There are a number of factors, including a strengthening economy and the impact of sequestration on the timing of outlays, together with the normal challenges of forecasting the payments and receipts of the U.S. government months into the future, that make it impossible to provide a precise estimate at this time on the duration of extraordinary measures," the Treasury said in its fiscal third-quarter refunding statement.
"Based on current projections of cash flows and extraordinary measures," Treasury continued, "it appears Treasury will have room to continue financing government operations so that Congress can address this when they return after Labor Day." But Labor Day has come and gone, and there has been little done recently to address the still-significant problem of the U.S. deficit.
A survey published by Gallup on Wednesday showed that just 5 percent of Americans think that the federal budget deficit or that the total federal debt is the most important problem facing the U.S., down from 7 percent in July. This puts the issue of the debt just behind Syria, with 8 percent of Americans stating that the developing situation is the nation's top priority.
The "economy in general" and "unemployment/jobs" still remain the top concerns for Americans, but the overall percentage of people citing economic issues as the most important problem in the country has been on the decline since late 2012.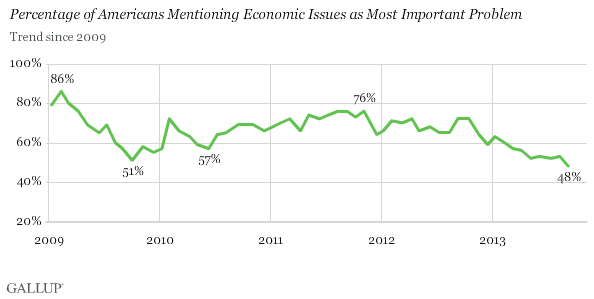 Don't Miss: Former FDIC Chair: Financial Regulators Haven't Done Enough.