Trick or Treat? Frankenstorm Has Winners and Losers
Sandy may be one of the biggest storms to hit the East Coast, but economists don't expect severe damages to extend to the economy.
Any blow to the economy is expected to be short-lived, as the impact of businesses closing will be offset by reconstruction efforts. Economists point to storms like Katrina, which devastated New Orleans in 2005, but did not deal lasting damage to the national economy.
Catalysts are critical to discovering winning stocks. Check out our newest CHEAT SHEET stock picks now.
The storm may impact this quarter's economic output, though, even if losses are ultimately recovered in the long-term. Gross domestic product in the region between New York and Washington amounts to roughly $2.5 trillion. Every day that tourist attractions, air transport, restaurants, movie theaters, retailers, and other businesses are closed amounts to roughly $10 billion in lost output, according to Mark Zandi, chief economist at Moody's Analytics.
Peter Morici, of the University of Maryland, estimates that Sandy will cause between $35 billion and $45 billion in losses and damages, spurring as much as $36 billion in recovery spending.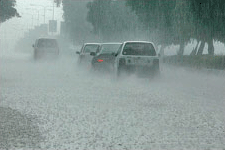 But predicting the economic impact of the storm is as nebulous as making predictions about the storm itself, which is a rare hybrid "super storm" involving other weather systems that could become trapped over the Northeastern United States for days.
Irene last year only took a minimal toll, but no one can forget the devastation Hurricane Katrina left in its wake when the New Orleans levees broke, the sort of unforeseeable event that can dramatically increase the damages and make a storm infamous.
Economic losses resulting from Katrina were upwards of $100 billion by most accounts, while disaster modeling company Eqecat is forecasting losses from Sandy between $10 billion and $20 billion. But that could change if Sandy gives rise to the Northeast's own version of the levee disaster.
Retailers will certainly bear the brunt of the storm's economic impact as shoppers stay at home and shops are boarded up. The timing of the storm — in the lead-up to the busiest shopping season of the year — means the impact could be even greater.
Super-centers like Walmart (NYSE:WMT), which saw shelves emptied at many stores as shoppers stocked up to wait out the storm, will have had losses at least partly mitigated by increased sales ahead of the storm. Home supplies companies like Lowe's (NYSE:LOW) and Home Depot (NYSE:HD) will likely see a boost in sales during the post-storm cleanup.
But the money consumers spend on storm preparedness and cleanup is money they won't be spending during the holiday shopping season, the most crucial quarter for toy companies, clothing retailers, and electronics stores like Best Buy (NYSE:BBY).
Monthly economic data will also become more volatile, says Zandi. "October retail sales, vehicle sales, and industrial production will be hurt, but they will bounce back in November and December."
"Restaurants will be hurt, but grocery stores will benefit; general merchandise stores will lose business, but online retailing should get a boost," Zandi added. "Of course, if the storm knocks out major infrastructure like refineries, cell towers, trains, sea and airports, then the economic damage will be more severe and difficult to recover from."
Numerous airports along the coast have been shut, including LaGuardia and JFK in New York. Air carriers from Delta (NYSE:DAL) to US Airways (NYSE:LCC) have had to ground hundreds, perhaps thousands of flights indefinitely.
Refineries operated by Phillips 66 (NYSE:PSX), Hess (NYSE:HES), and NuStar (NYSE:NS) have completely shut down because of the storm, and could be closed until as late as Wednesday or Thursday.
Oil supply disruptions also have many worried about higher gas prices, which could further cut into consumers' holiday budgets.
Local governments, tasked with protecting citizens and repairing damage from high winds and floods, will also be faced with financial headaches in the aftermath of the storm, though federal aid will play its part.
With trading closed Tuesday for the second day, all analysts and investors can do is speculate and prepare themselves for what could be a very volatile day of trading on Wednesday. While markets are likely to move dramatically lower, if they do resume trading tomorrow, some stocks are sure to shine.
Don't Miss: Is Frankenstorm Sandy a New Form of Economic Stimulus?