Should These Numbers Trouble the U.S. Treasury?
While Washington has been caught in the crosshairs of a fierce political battle between congressional Republicans and Democrats over how best to restructure and repair the financial pillars of the United States economy, foreign investors have remained relatively confident in U.S. securities.
But some cracks are visible in their trust. As data from the Treasury showed Friday, foreign investment in U.S securities slowed in the first month of this year after picking up a lot of steam at the end of 2012. In January, foreign demand for long-term securities dropped to a net $25.7 billion from $64.2 and $57.0 billion in December and November, respectively.
In total, foreign accounts purchased $48.2 billion in securities — a solid total even if it dropped by $20 billion from the two previous months. But, in comparison, U.S. residents bought a significant amount of foreign securities. These purchases — totaling $22.5 billion — came in well above the $10 billion in foreign securities bought, on average, in December and November. This figure brought net treasury international capital down…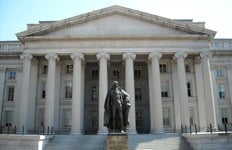 While private foreign accounts have also been large buyers of U.S. equities — grabbing up $25.3 billion in December and $21.7 billion in November — their purchases slacked off in January, despite that month's strong stock market rally. Foreign accounts were not only sellers of Treasuries in January, but they were also only modest buyers of equities, with purchasing amounting to only $4.4 billion.
Both in terms of securities investments and equities purchases, January's totals were low, a development that should slightly concern the Treasury. Foreign investments in U.S. securities has helped to offset the federal government's deficit — which, at the current rate of spending, averages approximately $80 billion each month — and the nation's trade gap, which runs about $45 billion per month.
Another reason why this economic release is so carefully examined is because bonds and the dollar are very sensitive to the data. As a result, bond and foreign exchange markets react strongly to the report. High demand for U.S. securities is needed to keep downward pressure on interest rates, and the demand also underpins the value of the dollar because foreign investors must purchase dollars in order to buy the securities. A strong dollar helps maintain stability in all U.S. financial markets.
There was one small piece of good news buried in the report; Chinese holdings of Treasuries jumped significantly to $1.26 trillion from $1.22 trillion.

Here's how the 3 major stock indices performed this past trading week:

Don't Miss: Here's Some Positive Inflation Data For the Fed to Consider.