Should We Expect Netflix Feature Films in the Future?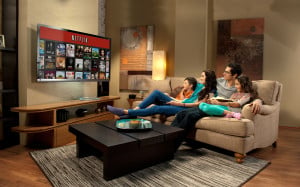 It feels as though Netflix (NASDAQ:NFLX) is evolving so fast that it is difficult to remember where it was just a few years ago — namely, a DVD service sent through the mail. Now, Netflix's streaming service has become the standard in home entertainment, and their current goal is the creation of successful original programming. Could their next move be more obvious than we think?
When Netflix decided to jump into original programming, it spared no expense. Its critically acclaimed series House of Cards – starring Kevin Spacey with David Fincher as Executive Producer — has a budget estimated at $100 million for two seasons. Netflix green-lit both seasons right off the bat, regardless of whether the first season was well received, and it appears they will be rewarded at this year's Emmys. Soon after, Netflix oversaw the revival of cult classic Arrested Development along with the Eli Roth produced Hemlock Grove. Next week, the eagerly anticipated Orange Is the New Black by Jenji Kohan will be released capping off a highly successful start to their foray into original programming.
Now that Netflix has established itself as a creative force in television, its next next step seems like an obvious one: feature filmmaking. And if you look closely, the company already appears to be making cautious steps in that direction.
On April Fools Day, Netflix released the found footage comedy Shotgun Wedding — its first original feature — about a groom that accidentally shoots the maid of honor in the face, but is determined to go through with the wedding. While the film is low budget, lacking all the glitz of its tent-pole series like House of Cards, the question remains as to whether this could be a preview of what's to come from Netflix.
Of course, while making the jump to feature filmmaking seems like an obvious one — especially when one considers that the average length of a film is 2 hours versus the 13 hours of House of Cards' first season — it actually isn't as simple as it seems.
Feature films can run tens to hundreds of millions of dollars when A-list actors, top directors, and top screenwriters are considered. While Netflix has shown that it's willing to spend the bug bucks, it might not be worth it to put $100 million dollars into a single 2 hour feature film when that money can be spent on an entire season of a TV series.
It's also worth pointing out that the difference in cinematic quality between feature films and top television shows is fading rapidly, and most onlookers believe that we are currently in the golden age of television. Combined with Netflix's decision to release all the episodes of a season at once, it's possible it has created an entirely new paradigm for watching creative content in which viewers can watch as much or as little as they want — a paradigm that, interestingly enough, Netflix created through its streaming service in the first place.
It's quite possible that we don't even need feature filmmaking from Netflix. Instead, we've become accustomed to an entirely new style of watching content in which we can move through hours of entertainment at once, in such a way that it could be likened to reading a novel more so than a film.