Signet Fails to Obtain Injunction and 3 Morning Hot Stocks Seeing Action Now
Signet Jewellers Limited (NYSE:SIG): Current Price $61.80
Sterling Jewellers Inc, a unit of Signet Jewellers Limited (NYSE:SIG), failed to obtain an injunction that would block Zale Corp's (NYSE:ZLC) advertising campaign claiming that its Celebration Fire gemstones are the "most brilliant diamonds in the world." Sterling claimed that its tests proved its own diamonds were as brilliant as those of Zale's, and moved to suspend the campaign just before the holiday shopping seasons. The judge, however, said that Sterling could not prove that it would suffer irreparable harm due to the advertisements, and instead could probably claim only lost sales or customers at the trial. As this could be remedied through an award of monetary damages, a preliminary injunction was denied.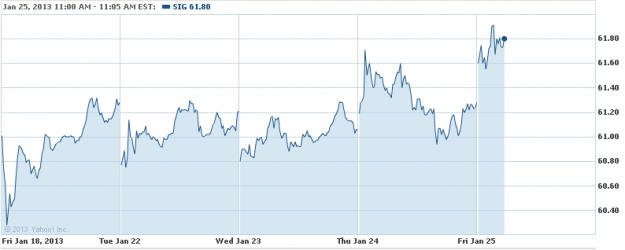 Kimberly-Clark (NYSE:KMB): Current Price $86.91
Kimberly-Clark (NYSE:KMB) reported fourth-quarter EPS of $1.37 and revenue of $5.3 billion, beating by $0.02 and $0.11 billion, respectively. Organic sales during the quarter were up 5% compared to the year ago period, while operating profit was $449 million, down 27%. Adjusted operating profit, however, was $798 million, up 5%. Cash generated due to operations in the fourth quarter was $1.119 billion, an all-time record, and up from $570 million in the prior year period. Sales at the Personal Care Segment were up 8% to $2.4 billion and its operating profit was up 23% to $419 million. Sales declined 2% to $1.7 billion in the Consumer Tissue Segment while operating profit declined 4% to $235 billion. For 2013, the company expects net sales to be higher between 0 to 3%, and adjusted operating profit growth of 3 to 6%.

Are these stocks a buy or sell? Let us help you decide. Check out our Stock Picker Newsletter now.
Sonic Corp (NASDAQ:SONC): Current Price $11.05
Drive-in restaurant operator Sonic Corp (NASDAQ:SONC) announced that its President, Scott McClain, would be resigning with effect from March 31, 2013 and would be replaced by Cliff Hudson, Chairman and Chief Executive Officer, who will assume the title of President. McLain's responsibilities "will be allocated among current and prospective members of management."

Hasbro's (NYSE:HAS): Current Price $37.00
Hasbro's (NYSE:HAS) Q4 pre-announcement of earnings, which miss on the consensus estimate due to poorer than expected consumer demand through the holiday season, has gotten investors worried about toy stocks, which seem to be on sale all around. Mattel Inc (NASDAQ:MAT) -1.18%, JAKKS Pacific Inc (NASDAQ:JAKK) -1.3%, LeapFrog Enterprises Inc (NYSE:LF) -4.78% and Hasbro (NYSE:HAS) itself -3.89%.

Don't Miss: Your Cheat Sheet to Apple Earnings.