Silver Shaking Investor Nerves
Last week, as silver hits multi-year highs, I thought I'd take a quick look at the iShares Silver Trust (NYSE:SLV).
The stock has traded in a 52-week range of $16.73 to $48.35, and most recently traded at $42.67, down $0.16 in the days trading.  Its market capitalization is $15.7 billion, its price-to-earnings ratio is a sky-high 59.45, it pays no dividend, it earned $0.72 per share last year, there are 368 million shares outstanding, and its beta is 0.46.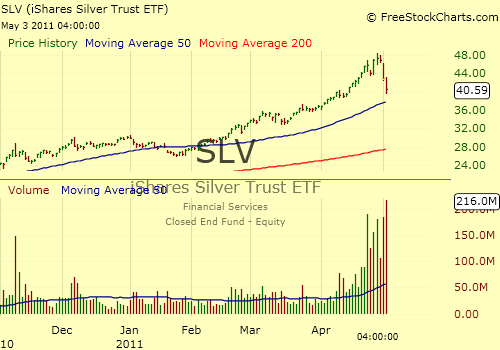 Of those statistics, the only thing that this ETF appears to have going for it is that it is relatively liquid and its movements are somewhat uncorrelated with the broader market, which suggests that this ETF could be used to hedge some exposure to public equities.  Of course, all commodities ETFs will have betas that are somewhat uncorrelated with the broader market.  The SPDR Gold Trust (NYSE:GLD) is an extreme example of this, with a beta of 0.05. For more analysis and projections on Gold, Silver and the mining shares, consider a free 14-day trial to our service.
Other exchange-traded funds that investors looking for exposure to the commodities markets should consider are: Market Vectors ETF Trust (NYSE:GDX), United States Oil Fund (NYSE:USO), iShares Gold Trust (NYSE:IAU), and ETFS Physical Palladium (NYSE:PALL).
Note: Financial data is taken from Yahoo! Finance.  Selected other data is taken from Google Finance and publicly available SEC filings.  All data are assumed to be accurate.