Sina Corp Earnings: Revenue Grows By Double-Digits For Fifth-Straight Quarter
Rising costs did not help Sina Corporation (NASDAQ:SINA) in the first quarter as profit dropped from a year earlier. An online media company and mobile value-added information service provider in the People's Republic of China and the global Chinese communities.
Don't Miss: Wall St. Cheat Sheet's newest Feature Trades of the Month!
Sina Earnings Cheat Sheet for the First Quarter
Results: Net income for Sina Corporation fell to $15 million (23 cents/share) vs. $24.4 million (37 cents/share) a year earlier. A decline of 38.4% from the year earlier quarter.
Revenue: Rose 17.9% to $100.2 million YoY.
Actual vs. Wall St. Expectations: SINA reported adjusted net income of of 25 cents/share. By that measure, the company fell short of mean estimate of 27 cents/share. Estimates ranged from 19 cents per share to 37 cents per share.
Quoting Management: "SINA's online advertising growth was strong in the first quarter, despite a high comparison basis from last year" said Charles Chao, CEO of SINA, "The momentum for Weibo adoption is building across China. With the launch of the official Weibo.com, registered users for Weibo recently surpassed 140 million. We hope to ride this momentum and further expand Weibo's user base and user stickiness by significantly increasing our investment in the coming quarters."
Key Stats: The company has enjoyed double-digit year-over-year revenue growth for the past five quarters. Over that span, the company has averaged growth of 13.5%, with the biggest boost coming in the most recent quarter when revenue rose 17.9% from the year earlier quarter.
From the fourth quarter of the last fiscal year, the company's current liabilities fell to $172.8 million from $248 million.
Competitors to Watch: SINA Corporation (YIN), Sohu.com Inc. (NASDAQ:SOHU), Baidu.com, Inc. (NASDAQ:BIDU), Google Inc. (NASDAQ:GOOG), Yahoo! Inc. (NASDAQ:YHOO), NetEase.com, Inc. (NASDAQ:NTES), Youku.com Inc (NYSE:YOKU), Shanda Interactive Entertainment Ltd ADR (NASDAQ:SNDA), Rediff.com India Ltd. (NASDAQ:REDF), and AOL, Inc. (NYSE:AOL)
Stock Performance: Shares of SINA are up 2.8% after hours following today's close.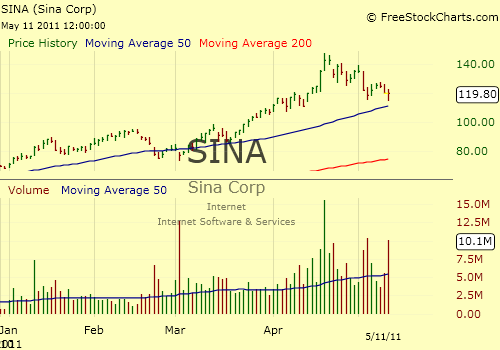 Don't Miss Wall St. Cheat Sheet's newest Feature Trades of the Month!