Sirius Launches Internet Feature and 2 More Heavily Traded Stocks
SiriusXM Radio (NASDAQ:SIRI): Closing price $3.03
SiriusXM Radio debuted MySXM, which is its answer to Pandora Media (NYSE:P) on Monday. The feature forms an interactive Internet radio service by permitting users to personalize existing SiriusXM stations, and is available to all subscribers of SiriusXM. MySXM uses in excess of 50 existing SiriusXM channels as a starting point and more channels will be added over time. The customization features for "The Spectrum" allow the listener to select different levels of depth — from less familiar to more familiar artists, era and popularity.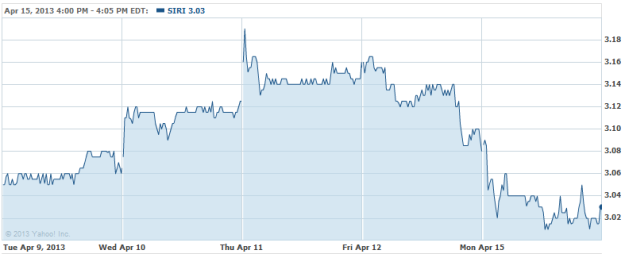 Ford Motor Company (NYSE:F): Closing price $12.96
Ford Motor Asia chief Dave Schoch affirmed that the automaker can double its share to 6 percent of the passenger vehicle market in China over the next three years, as it introduces out a large number of new products. On Monday, Schoch stood by the forecast he first made in 2012, remarking that, "Yeah, I think we can probably get there," to reporters prior to the upcoming Shanghai auto show, says Reuters. Ford's share of the China auto market, which is now the largest on earth, was 3 percent in 2012. But now Ford attained a 3.6 percent market share in the first quarter, year-over-year from 2012, Schoch reported, adding that Ford's sales should rise in 2013, which Schoch called a "turbocharged year" due to new model offerings including the Kuga sports utility vehicle, the EcoSport compact SUV, the Explorer large SUV, and the Mondeo mid-size sedan. All of those models will be available to Chinese consumers by the middle of the year.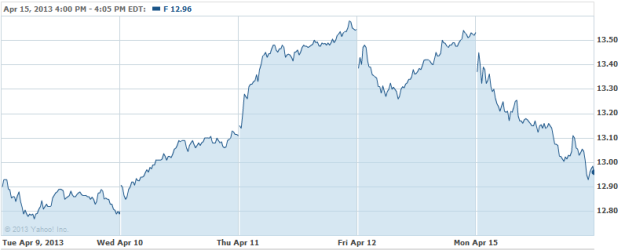 Life Technologies (NASDAQ:LIFE): Closing price $73.11
Thermo Fisher Scientific (NYSE:TMO) will pay roughly $13.6 billion for Life Technologies in a transaction that will permit the scientific instrument maker to benefit from the expected growth of personalized medicine, which employs genetic analysis to customize treatments to patients. The firm said Monday morning that it will spend $76 in cash for each share of Life Technologies. Shares of both firms then started climbing before markets opened and continued to rise into the afternoon. Life Technologies offers over 50,000 products and delves into genetic analysis and engineering, stem cell therapies and chemicals used in forensics and food safety. Its next-generation DNA sequencing, presently utilized in research labs, is created to sequence a person's entire genome in one day for $1,000, which is quicker and cheaper than previous forms of analysis.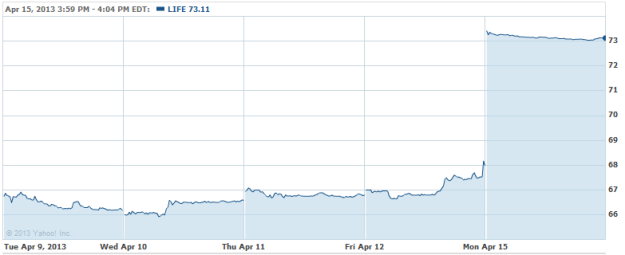 Investing Insights: Sirius XM Pays CEO Some Serious Cash.