Sirius Serious About March Madness and 2 Other Heavily Traded Stocks
Bank of America Corporation (NYSE:BAC): Current price $11.88
The Boston Globe says that Boston will be the first market to have a new generation of Bank of America automatic teller machines which will offer video chats with tellers, along with other new services. The new ATMs will debut later in March at the Back Bay banking center at 133 Massachusetts Avenue., according to a BofA spokeswoman. The new machines will be rolled out to other parts of Boston and the the United States throughout 2013.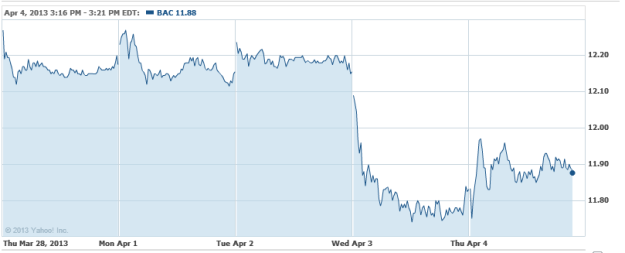 Facebook (NASDAQ:FB): Current price $27.08
The company means to place its social network at the center of users' mobile experiences, with its new "Home" on Android gadgets, reports the Associated Press. If users elect to download Facebook's Home software starting on April 12, the social network will become the focal point of their Android smartphones, and a phone from HTC coming pre-loaded with Home will also be available beginning that day, with AT&T as the carrier. The service forms part of Facebook's attempt to transfer its users' focus from "apps and tasks" to people, said Chief Executive Mark Zuckerberg during Home's debut at Menlo Park on Thursday.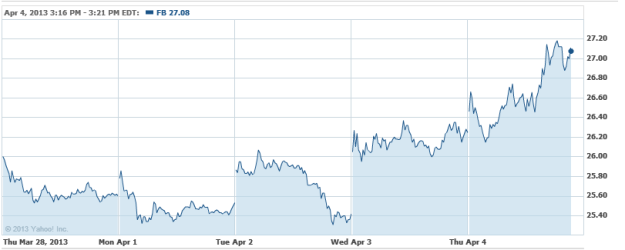 Sirius XM Radio (NASDAQ:SIRI): Current price $3.01
Subscribers of Sirius XM Radio will enjoy comprehensive coverage of this weekend's NCAA Final Four and the 2013 NCAA Division I Men's National Championship game, through live broadcasts from Atlanta April 4 through April 9. SiriusXM College Sports Nation, channel 91, will feature a daily lineup of shows with a remarkable cast of college basketball experts which includes the two-time SEC Coach of the Year Bruce Pearl, three-time ACC Coach of the Year Bobby Cremins, Hall of Fame Michigan State guard Mateen Cleaves, former Villanova and UMass coach Steve Lappas, former University of Vermont coach Tom Brennan, along with Tim Brando, Mark Packer, Jeff Goodman and Jason Horowitz. Hosts will broadcast from Bracket Town at the Georgia World Congress Center, Radio Row at the Georgia Dome and other locations in the Atlanta area.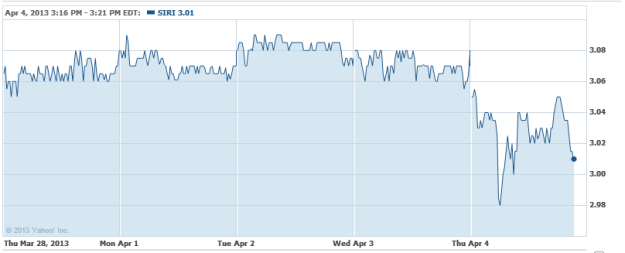 Don't Miss: Will iRadio Turn the Volume Down on Pandora?