Sirius Tops 10 Thousand Dealers In Vehicle Program and 2 Other Hot Stocks to Watch
Sirius XM Radio (NASDAQ:SIRI): Current price $3.29
On Wednesday, Sirius said that it has topped 10,000 in franchise and independent auto dealers throughout the United States participating in the SiriusXM Pre-Owned Vehicle Program, and are eligible to award a 3-month SiriusXM subscription to customers purchasing any pre-owned vehicle having a factory-equipped satellite radio. Also, the company is now pre-enrolling dealers in its Service Lane Program, which launches this summer and will provide a complimentary two-month SiriusXM subscription to qualifying customers who bring in their vehicles with a factory-equipped satellite radio for service.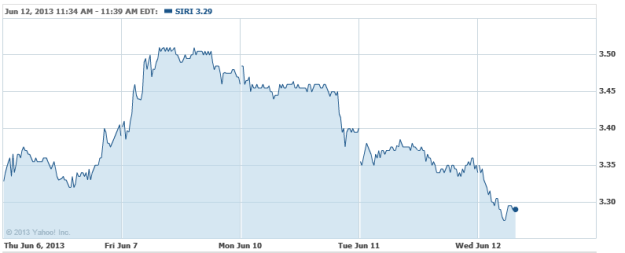 Bank of America Corporation (NYSE:BAC): Current price $13.10
In Sao Paulo, Bank of America and Vital Voices are conducting a mentoring forum, which brings together a number of influential women from both the public and private sectors, who are committed to women's economic empowerment. This forum is the most recent installment of the Global Ambassadors Program, which is a Vital Voices and Bank of America partnership, setting up accomplished professionals as mentors for emerging women leaders in developing countries, so as to help them achieve their full economic potentials. Recently, the World Bank complemented Brazil for shrinking its social and economic inequality at a more rapid rate than nearly any other nation, discovering that women presently comprise roughly 44 percent of the labor force, have principal ownership in 59 percent of Brazil's companies, and are now starting businesses at the same rate as do men.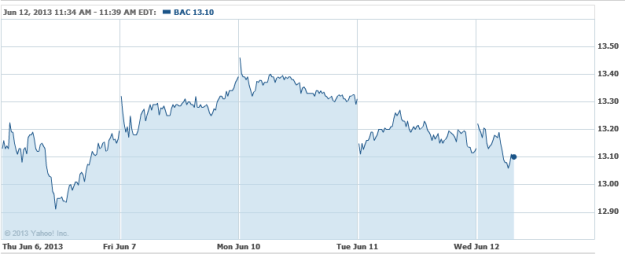 Citigroup (NYSE:C): Current price $
Citi will provide as much as 200 million euros in trade financing in order to help support the Greek economy as part of an initiative being led by the European Investment Bank. Citi's contribution will be part of a 500 million euro program that was formed to facilitate imports and exports for small and medium-sized enterprises in Greece. The program is intended to provide added liquidity and restore trade flows in that country, and to lower Greek SMEs' financing costs. Citi will utilize the EIB-supported credit facility to confirm letters of credit and other trade finance instruments that are issued by the three participating Greek banks – National Bank of Greece, Piraeus Bank, and Eurobank Ergasias.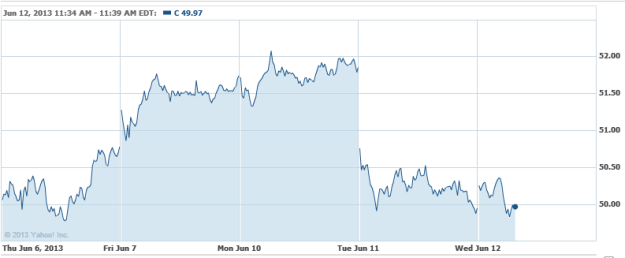 Investing Insights: Is TiVo Undervalued?