Sirius XM Gets Rights to Big Soccer and 2 Other Hot Stocks to Watch
Sirius XM Radio (NASDAQ:SIRI): Current price $3.39
Sirius XM and Relevant Sports have reached an agreement through which Sirius will be allowed to broadcast live soccer matches via its SiriusXM FC, channel 94. Listeners will receive live updates of a series of soccer matches organized by Relevant Sports, that will feature several top European club soccer teams doing what they do. Beyond that, SiriusXM FC subscribers will enjoy the international match between the world champion Spain, and Ireland at Yankee stadium on June 11th.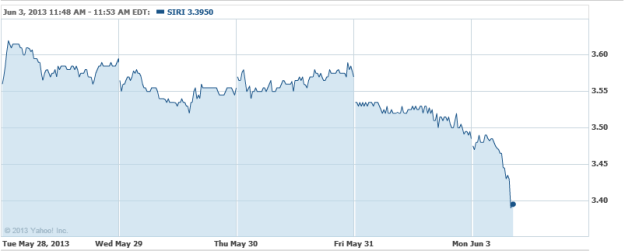 Intel Corporation (NASDAQ:INTC): Current price $25.30
Intel have jumped by more than 4 percent in late morning trading, following FBR Capital Markets upgrading the shares to Buy, contending that the chipmaker's development of mobile tech affords it "enough new avenues of growth." Through May 31, the shares had moved up by 18 percent in 2013, while the Standard & Poor's 500 added 14 percent. Analyst Christopher Rolland at FBR wrote to investors that Intel has redesigned one of its flagship chips so as to better compete in the market for mobile devices, and its new growth path is sufficient to outweigh challenges in the personal-computer market.

Citigroup (NYSE:C): Current price $50.96
Citi Commercial Cards has launched CitiManager Mobile, which is a mobile-optimized version of the CitiManager desktop portal, considered Citigroup's state-of-the-art account management tool. Using the CitiManager Mobile site, Citi corporate cardholders can easily monitor their accounts, and read statements and see new transactions from multiple device types, among which include iPhone, Windows, Android, and Blackberry. CitiManager Mobile is accessible in 22 languages and offers a streamlined, mobile-optimized version of the core functionalities which are available in the CitiManager desktop portal.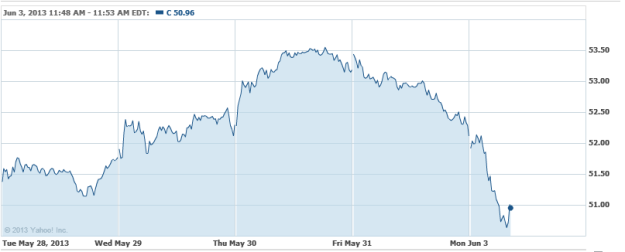 Don't Miss: E-book Drama: Will Apple Explain Why It Hasn't Settled?