Sirius XM Launches No Labels Radio and 2 Other Hot Stocks to Watch
Sirius XM Radio (NASDAQ:SIRI): Current price $3.43
On Monday, Sirius announced that it will introduce No Labels Radio, which will comprise a monthly series of on-air town halls connected with No Labels, the growing movement of Democrats, Republicans, and independents who are committed to a "new politics of problem solving," on SiriusXM P.O.T.U.S., the 24/7 non-partisan channel dedicated to "the Politics of the United States." The new No Labels Radio: A Town Hall with America will debut on Wednesday, May 15, live at 2:00 pm Eastern Time on SiriusXM P.O.T.U.S. by means of satellite on channel 124, and also through the SiriusXM Internet Radio App on smartphones and other connected devices.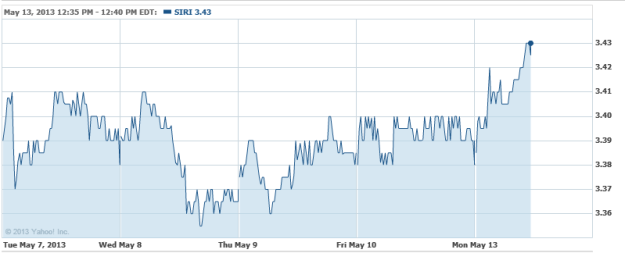 BlackBerry (NASDAQ:BBRY): Current price $15.80
Shares are up almost 2 percent at noon trading, subsequent to a number of notes Monday morning previewing the BlackBerry Live user conference which will be held in Orlando this week. Analyst Mark Sue at RBC Capital, reiterates a Sector Perform, noting that "our checks suggest BlackBerry Q10 sell-through in Canada and the U.K. remains healthy, though subsiding from the launch rush two weeks ago," and that he expects a "message of positive turnaround at this week's user conference."

Tesla Motors (NASDAQ:TSLA): Current price $85.14
Shares received an extra catalyst Monday from sales in California and United States environmental credits that generated 15 percent of revenue, along with first quarterly profit.  Sales came to $85 million, according to a May 10 filing, which included California zero-emission vehicle credits of $67.9 million along with "other regulatory credits" of $17.1 million. Spokesman Jeff Evanson said that the latter amount, primarily from United States rules, was not detailed in the first-quarter earnings on May 8.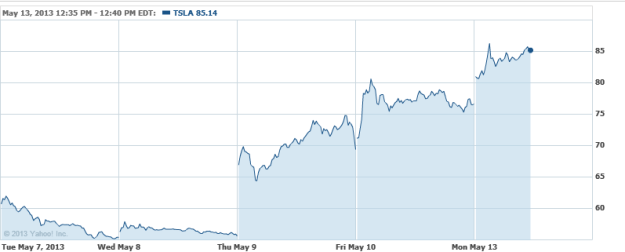 Don't Miss: Bailout Check: Uncle Sam Dumping More GM Stock.