Sirius XM Raises Its 2013 Subscriber Outlook and 2 Other Hot Stocks to Watch
Sirius XM Radio (NASDAQ:SIRI): Current price $3.58
Sirius announced Tuesday that the number of paid subscribers to its radio service hit 25 million in the second quarter, pushed by strong auto sales. The company also raised its subscriber expectations for the year. CEO Jim Meyer said the 715,000 net new subscriber additions in the second quarter, a rise of 15 percent, set a record for the period since Liberty Media Corp. took control. Sirius hiked its forecast of net subscriber additions by 100,000, to 1.5 million, thus far this year.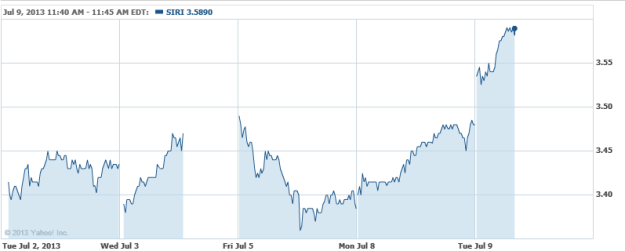 Nokia Corp. (NYSE:NOK): Current price $4.24
The Street is reporting that Nokia seems to be abandoning its plans to market a tablet running Windows RT, considered to be the "lighter" version of Microsoft's Windows. Reports from earlier this year said Nokia had been developing two new tablet designs, one that runs the full Windows 8 for Intel processors and another with Windows RT running on ARM-based chips; only the Windows 8 project is said to be still ongoing. A problem with Windows RT is that it can only run applications made for Windows RT, so none of the popular programs for Windows XP, including Vista Windows 7 and 8, can be used.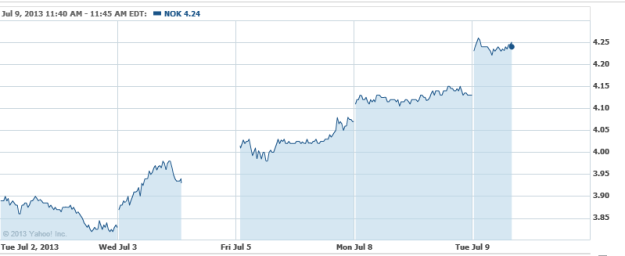 Applied Materials Inc. (NASDAQ:AMAT): Current price $15.71
The No. 1 maker of semiconductor equipment worldwide said that industry spending will quicken in 2014 as chipmakers boost production to meet demand for mobile device components. Applied Materials CEO Mike Splinter said Monday at an analyst briefing in San Francisco that competition among smartphone providers is pushing demand for more advanced parts and improvement in the machines that produce them. Analysts consider Applied Materials to be a bellwether for a broad indication of demand for electronics since chipmakers order equipment as calculated on their perception of future sales.