Sirius XM: Will 2012 Be a Year to Remember?
After 12 months spent under a cloud of uncertainty, Sirius XM Radio (NASDAQ:SIRI) entered 2013 with a burst of confidence.
No longer is the satellite radio provider looking for a replacement for its outgoing chief executive Mel Karmazin and no longer is it waiting for the Federal Communications Commission to give Liberty Media (NASDAQ:LMCA) permission to gain a controlling interest. On January 4, the company finally received regulatory approval to assume broadcast licenses from Sirius XM.
Start 2013 better than ever by saving time and making money with your Limited Time Offer for our highly-acclaimed Stock Picker Newsletter. Get our fresh Feature Stock Pick now!
The focus is now growth.
This past week, Sirius XM announced that despite its troubles last year, 2012 was a success. With 2 million net additions, the company increased its total number of subscribers to 23.9 million over the course of the 12-month period, a 9 percent improvement year-over-year. The total number of customers subscribing to the company's satellite radio service also came in 3 percent higher than the original estimate Sirius gave at the beginning of the year…
This swelling customer base has given the company a strong foundation to meet its 2012 financial guidance. Based on these results, interim Chief Executive Officer Jim Meyer said that "SiriusXM set a post-merger record of 2 million net additions in 2012, and we expect to report financial and operating results that meet or exceed all of the guidance we provided for 2012."
Shares of Sirius XM have traded in a continued uptrend in 2013 following a stellar 2012 technical performance: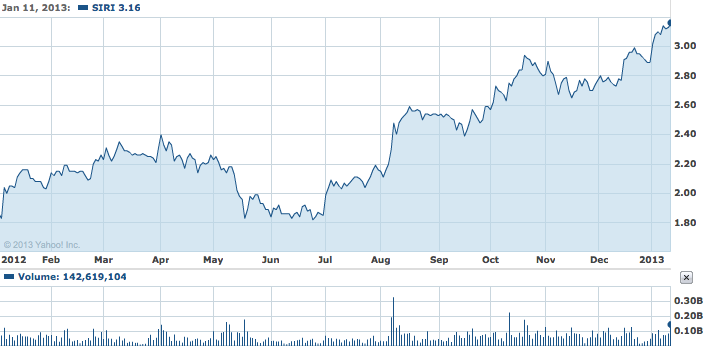 Growth is expected to continue through this year. "Our unparalleled programming and product innovations, such as On Demand programming and the soon to be launched customization feature, will allow us to continue our strong record of growth driving our subscriber base to exceed 25 million in 2013," he added.
In the press release announcing the company's subscriber additions, Meyer predicted that the company will achieve double digit earnings growth before interest, taxes, depreciation and amortization, which will allow Sirius to begin its $2 billion stock buyback program. For this upcoming year, Sirius has forecast revenue of over $3.7 billion, adjusted EBITDA of over $1.1 billion, free cash flow close to $900 million, and total net subscriber additions of approximately 1.4 million.
Investing Insights: A Look at Sprint without the Noise.