Sizzling Stories Affecting 3 Dow Consumer Stocks This Week
The Walt Disney Company (NYSE:DIS):  Current Price $57.65
Disney's Oz: The Great and Powerful, a prequel to The Wizard of Oz, opened this past weekend with an estimated box-office take of $80.3 million in the United States and Canada, says the Wall Street Journal.
Disney's interactive unit will have more difficulty attaining profitability in 2013, a goal that chief Executive Robert Iger has advocated, says The Wall Street Journal. The company reported that its heavily promoted video game, Disney Infinity, will not be released in June as had been planned, but will be delayed until August 18, resulting in less revenue from the game, marking the biggest release from its interactive division being counted in Disney's fiscal year, which ends in September. There was no comment from Disney Interactive.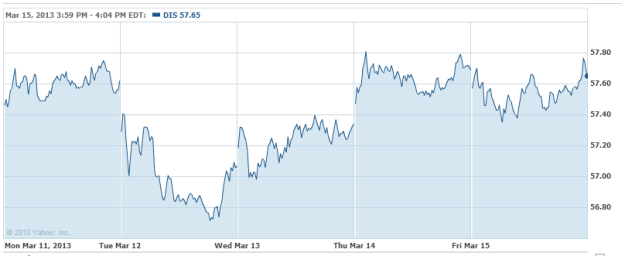 Wal-Mart Stores (NYSE:WMT): Current price $72.54
While Walmart and Microsoft Corporation (NASDAQ:MSFT) have been rumored as potential suitors for Barnes & Noble (NYSE:BKS), and founder and Chairman Leonard Riggio has announced publicly his intention to pursue an acquisition of the firm's retail business, the most strategic buyer that could benefit from purchasing the struggling bookseller would be Amazon.com (NASDAQ:AMZN), according to Forbes contributor Steven Rosenbaum.
Wal-Mart's Asda division might be thinking over a rescue offer for HMV, which is an entertainment retailer that collapsed into administration in January, says the Telegraph.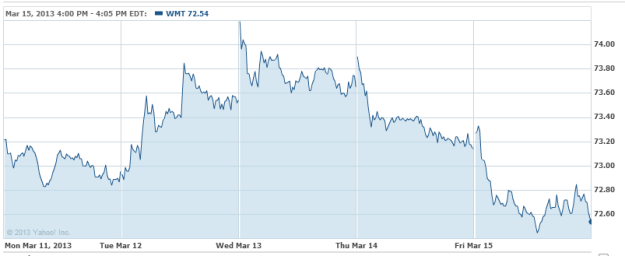 Don't Miss: Is a Permanent Fix for Boeing Batteries in Sight?
The Coca-Cola Company (NYSE:KO): Current price $38.78
New York City has vowed to appeal the judge's decision striking down the city's ban on large sugary drinks, said Politico Monday night, adding that  New York Mayor Mike Bloomberg commented that the city is "confident" it will win an appeal.
In China, local authorities in the southwestern Yunnan province claimed that Coca-Cola Co. illegally mapped its territory, says The Wall Street Journal. The officials accused company employees of employing handheld GPS devices to gather confidential information.  For its part, the company responded that it is cooperating to ensure logistics systems are in full compliance with government regulations.

Don't Miss: The Next Step in McDonald's Michigan Fiasco.