Resume Fillers or Killers? 9 Skills to Leave Off Your Resume
Whether you're putting a resume together for the first time, or simply giving yours a much-needed revamp, knowing what to include, and what to omit, is tricky. Whether you're aiming to make the jump to management, or simply find a job that pays a little better, a brilliant resume can make all the difference when hitting the job market. You'll want to be succinct, clear, and impressive — and avoid embellishing or including any blatant lies.
Depending on your particular station in life, it may be difficult to trim your list of skills and accomplishments down — or, to actually have enough to fill up a page. If you're early in your career, chances are you're looking to expand on what you've done, given that you probably have spent a relatively short time in the work force. If you're a bit older, you're probably omitting jobs completely, and sticking to experiences that are relevant to the job you're applying for.
Crafting a resume, in this regard, is all about strategizing. And knowing what to include, and what not to, is incredibly difficult. A recent report from PayScale is offering a helping hand, however.
The report, called Leveling Up: How to Win In the Skills Economy, digs into the data to get the dirt on what employers are and are not looking for. In addition to looking at workforce preparedness, PayScale looked at what hiring managers actually looked for on resumes from recent college graduates to see what was the most effective in terms of getting people hired.
The resume report
The report is rife with valuable data, particularly for job seekers. If you're currently in the process of building a resume or giving yours a facelift, there's a ton to work with. PayScale lists specific skills that are great to include if you're looking to get a raise or promotion, skills that will get you a job in specific sectors, and even which skills are the most prevalent in certain geographic areas.
Needless to say, it's pretty dense. So be sure to check out the entire thing for yourself.
But perhaps the most useful, if not underappreciated part of the report has to do with which skills are actually harmful to your resume. That is, these skills, when added to resumes, don't add any value to it at all — in fact, they're detrimental.
"Not all skills are worth putting on your resume. 'Filing,' for example, shouldn't be at the top of your list. It's a skill, yes, but it's so common that presenting it as one of your top skills may actually lead to a lower salary," the report says. "It's assumed workers possess these 'foundational' skills, so listing them as highlights may lead employers to believe you lack more advanced skills that would make you a more valuable employee or desirable candidate."
So, essentially, these skills are somewhat baked into the proverbial cake. If you're applying for a job, it's assumed that you have these skills, and know what you're doing. For example, you wouldn't apply for a job as a mechanic without having ever picked up a wrench.
But that brings up an important point about this report, and these skills especially: context matters. As you can see by reading through, including these skills on your resume is going to hurt you when applying for certain jobs, or in certain industries. You should be retooling your resume to fit specific job descriptions anyway, so the next time you do, think about how your skill list fits the context for a given description.
The skills that kill your resume
Here is a graphic PayScale included with its report, detailing which specific skills are the worst for given positions. For clarity, you can read the full nine-item list below. The number to the right indicates "the percentage below average salary that workers listing as top skills command."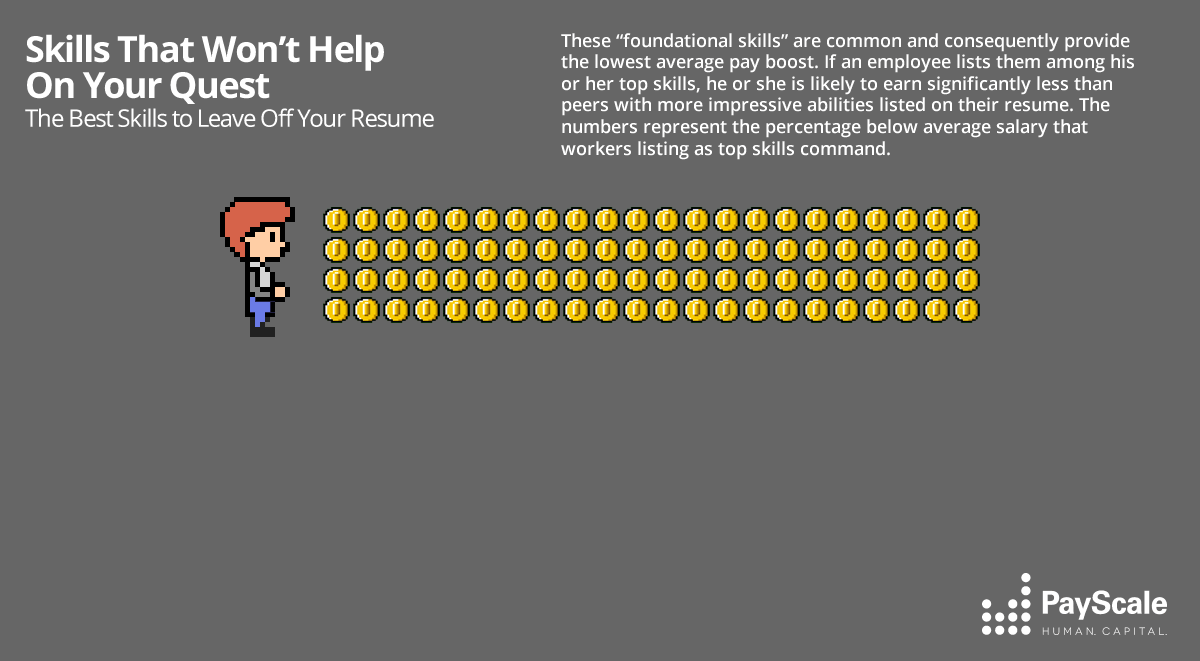 The most damaging skills to put on your resume:
1. Filing  | -15.4%
2. Property management | -15.1%
3. Data entry | -15%
4. Bookkeeping | -14.5%
5. AS/400 | -14.3%
6. Call center | -14.2%
7. Help desk/ desktop support | -13.5%
8. Collections | -12.8%
9. Intuit Quickbooks | -12.5%
Check out PayScale's complete job skills report for more information.
Follow Sam on Facebook and Twitter @SliceOfGinger
More from Money & Career Cheat Sheet: