Skyworks Chosen as Top Pick and 4 Stock Analyses to See Now
WellPoint Inc. (NYSE:WLP): Current price $63.16
After Wellpoint Inc. named Joseph Swedish as their new Chief Executive officer, Wells Fargo noted that Swedish's experience is with providers rather than insurers. The firm finds the pick surprising and believes that this could create some concern and disrupt the company over the near-term. The firm maintains a Market Perform rating on the stock.

Genesee & Wyoming Inc. (NYSE:GWR): Current price $88.08
After the company reported a fourth quarter adjusted earnings per share that the firm believes was higher than expected, Wells Fargo increased their valuation range on Genesee & Wyoming. The firm raised their estimates and finds the company's outlook encouraging. They maintain an Outperform rating on the stock.
Are these stocks a buy or sell? Let us help you decide. Check out our Stock Picker Newsletter now.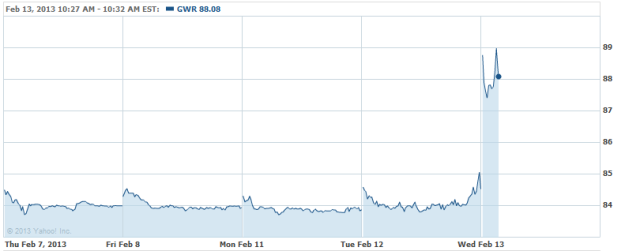 TW Telecom Inc. (NASDAQ:TWTC): Current price $26.90
After TW Telecom reported lower than expected fourth quarter earnings per share, DA Davidson thinks the company's new products will enable them to accelerate sales and earnings before interest taxes depreciation and amortization in 2014. The firm believes the company could report stronger than expected results in 2013 and 2014 and they maintain a Buy rating on the stock.

Tesla Motors, Inc. (NASDAQ:TSLA): Current price $38.40
After appearing to reach their production run-rate, Baird raised their price target on Tesla Motors. The firm also believes that the first quarter will be the company's first positive cash flow quarter, reservations momentum has increased, and the company continues to improve their Model S. Shares are Outperform rated.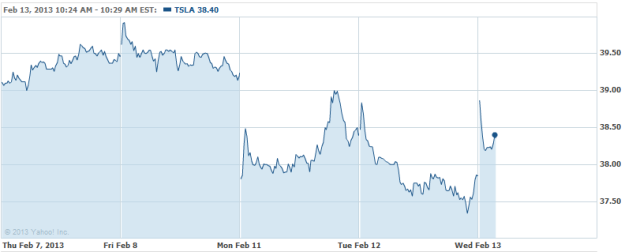 Skyworks Solutions Inc. (NASDAQ:SWKS): Current price $24.37
After meeting with Skyworks Solutions Inc.'s management, DA Davidson is encouraged about the company's market position and share gains in 2013. The firm thinks the company is well-positioned to continue benefiting from Samsung's (SSNLF) success in the mobile market and they reiterate Skyworks as one of their top picks for 2013.

Don't Miss: Watch Out, Michael Dell — Shareholders are Angry.