Are Government Policies Hindering Businesses?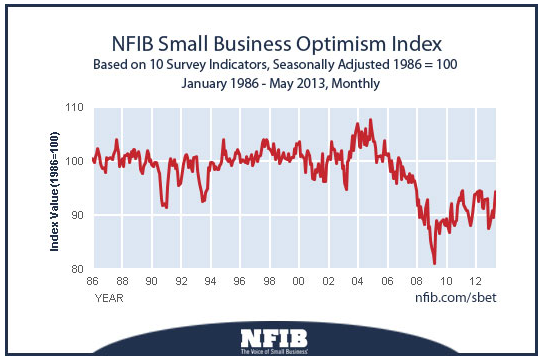 Small business owners felt slightly more optimistic last month, but the outlook for growth and job creation remains weak. Small firms across the nation cite taxes and government policies as their top problems.
The National Federation of Independent Business, the leading nonprofit small business association representing small and independent businesses, reported that its Small Business Optimism Index increased 2.3 points in May to reach 94.4, compared to 92.1 in the previous month. May's reading is the second highest since the recession started in December 2007.
Last December, the index sank to 88.0, the second worst reading since March 2010. In the 45 months of economic expansion since the beginning of the "recovery" in July 2009, the index has averaged slightly above 90.0.
Although optimism among small business owners increased for the second consecutive month, government policies are still seen as a major hurdle. Corporate profits are surging, but consumers and small businesses still face too much doubt about the future and are receiving little help from lawmakers.
"Small-business confidence rising is always a good thing, but it's tough to be excited by meager growth in an otherwise tepid economy," said NFIB chief economist Bill Dunkelberg. "Washington remains in a state of policy paralysis, and while the stock market sets records, GDP posts mediocre growth. The unemployment rate remains in the mid-7s and it is departures from the labor force — not job creation — that is contributing to its decline when it does fall. It's nice to see confidence not shrinking, but there isn't much to hang your hat on in this report."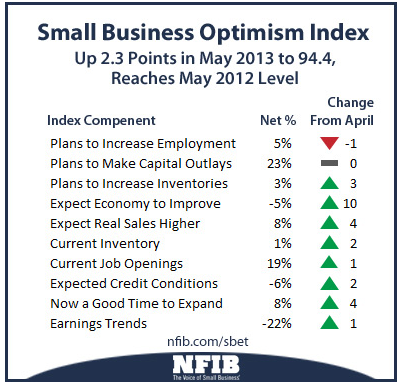 Of the ten index components, eight showed gains and one remained unchanged. Plans to increase employment declined from the previous month.
Only eight percent of owners said it was a good time to expand their businesses in May, up 4 percent from the previous month, but still a very weak number. The net percent of owners expecting better business conditions in six months was a net negative 5 percent.
Sales remained in negative territory for small businesses. The net percent of all owners reporting higher nominal sales over the past three months came in at negative 4 percent. Sixteen percent of small employers cite weak sales as their top business problem. Taxes and government red tap were the top two problems at 24 percent and 23 percent, respectively.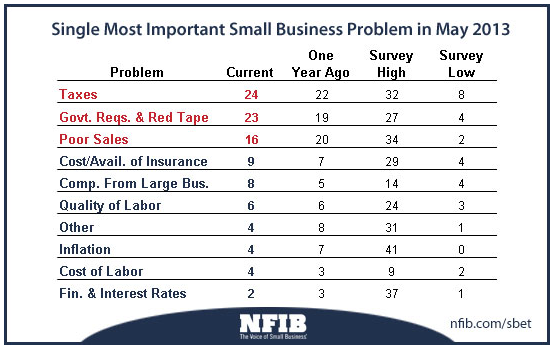 Job creation fell for the first time since November 2012. Small businesses reported increasing employment an average of negative 0.4 workers per firm last month. Overall, growth among small businesses is merely keeping up with population gains.
Dunkelberg adds, "The small business half of GDP is clearly not participating much beyond growth generated by population gains. More businesses are being formed than lost, so there is some boost to job creation there, but too many existing firms have not yet started to replace the workers shed during the recession. The Optimism Index is back to the May 2012 level which are identical to the November 2007 level (the Index fell all through 2007, signaling the oncoming recession). Since then, the Index has been higher in only three months, and by less than 2 points."
Don't Miss: Consumers and Investors Love These 5 Companies
Follow Eric on Twitter (@Mr_Eric_WSCS)