Smithfield Deal Gets Federal Brand of Approval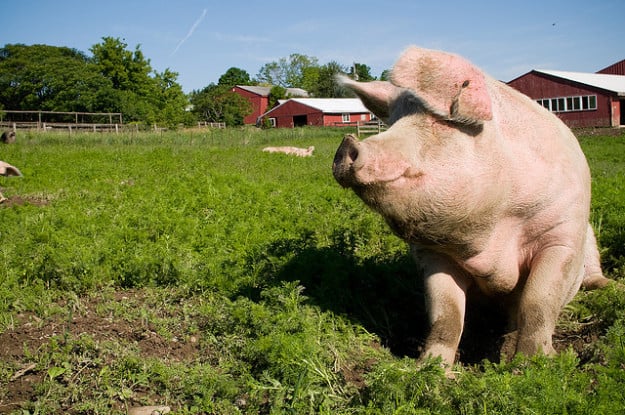 Shuanghui International's $4.7 billion takeover of Smithfield Foods (NYSE:SFD), the largest ever Chinese acquisition of an American company, has gotten approval from the U.S. Committee on Foreign Investment, the companies said in a press release on Friday. Now the companies face a shareholder vote, which is scheduled to happen on Tuesday, September 24. "Shuanghui International and Smithfield expect the transaction to close shortly thereafter," the companies said.
"This transaction will create a leading global animal protein enterprise," said Zhijun Yang, Chief Executive Officer of Shuanghui International. "Shuanghui International and Smithfield have a long and consistent track record of providing customers around the world with high-quality food, and we look forward to moving ahead together as one company."
The companies want to use the acquisition to help feed the growing Chinese middle class's demand for pork, but it has raised concerns from numerous parties about Americans's national security and food safety. The Senate Agriculture Committee, headed by Democrat Debbie Stabenow of Michigan, was very vocal about their disapproval of the deal, and demanded that itself and the Food and Drug Administration be involved in CFIUS's decision-making process.
Consumers and food safety groups, alarmed by recent food safety violations in China — which included rat meat being packaged and sold as mutton and contaminated milk that killed six people — have opposed the deal as well, although through the hoopla experts predicted the acquisition would go through. Lawmakers, local governments, food safety groups, consumers, and farmers have all opposed the deal.
One Smithfield investor, activist hedge fund Starboard Value, has also opposed the deal, saying that Smithfield could get more value by splitting itself up rather than allowing itself to be purchased as a whole. Starboard has said it will vote against the deal at the shareholder meeting, according to a Reuters report.
At a Senate hearing in July, Smithfield CEO Larry Pope emphasized the fact that no pork would be imported from China into the United States and that Smithfield's operations would still be subject to U.S. food safety laws and regulations. Those assurances made it unlikely that CFIUS would determine the deal was a threat to national security.
Follow Jacqueline on Twitter @Jacqui_WSCS
Don't Miss: Hurt at Home, Target Looks to Canada for New Profits.