Smithfield Foods Acquired By Shuanghui International and 2 Other Hot Stocks To Watch
Smithfield Foods (NYSE:SFD): Current price $32.46
It was announced Wednesday that Shuanghui International Holdings Limited will purchase all outstanding shares of Smithfield for $34 per share in a cash transaction that will amount to roughly $7.1 billion, including the assumption of Smithfield's net debt. The price represents a premium of about 31 percent over Smithfield's close on Tuesday, which was the last trading day prior to the announcement. Shuanghui International is the majority shareholder of Henan Shuanghui Investment & Development Co., which is China's biggest meat-processing enterprise and also the country's largest publicly-traded meat products company in terms of market capitalization.
Stewart Enterprises (NASDAQ:STEI): Current price $13.06
The former Securities and Exchange Commission attorney Willie Briscoe and the securities litigation firm of Powers Taylor are looking into the sale of Stewart Enterprises to Service Corporation International for shareholders. Through the terms of the proposed transaction are valued at around $1.1 billion, Stewart shareholders will receive a consideration of $13.25 for each share of Stewart Class A and Class B stock they own. The Stewart sale investigation will be focused on whether Stewart's shareholders are getting sufficient compensation for their shares in the proposed deal, if the transaction undervalues Stewart's stock, and whether Stewart's board endeavored to obtain the highest share price for all shareholders before agreeing to the deal.

Tesla Motors (NASDAQ:TSLA): Current price $103.74
Tesla is getting ready to expand a network of fast-charging stations so as to make its Model S a more viable alternative to gasoline-fueled vehicles. Chief Executive Officer Elon Musk, Tesla's biggest shareholder, has said that he will make a "big supercharger" announcement this week. The company operates nine stations that supply free electric power for owners of high-end versions of the Model S, and has said it will have a minimum of 100 along United States and Canadian highways by 2015. In order to broaden its appeal beyond California and the Northeast, where fueling spots are relatively plentiful, Tesla needs an expanded network of charging stations, as without them, drivers of the cars are limited by the estimated 265-mile range of a battery charge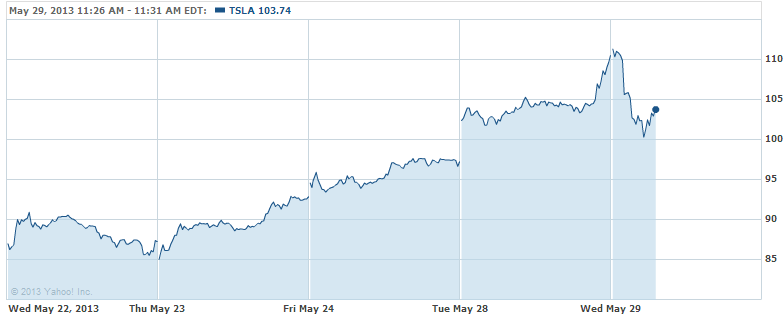 Don't Miss: Will The New Chrysler 200 Make Good On Fiat's Investment?