Smithfield Foods Inc. Earnings Cheat Sheet: Margins Expand Again
Smithfield Foods Inc. (NYSE:SFD) reported its results for the fourth quarter. Smithfield Foods, Inc. is a hog producer and pork processor, which produces and markets a number of fresh meat and packaged meats products both domestically and internationally.
Don't Miss: Wall St. Cheat Sheet's newest Feature Trades of the Month!
Smithfield Foods Earnings Cheat Sheet for the Fourth Quarter
Results: Swung to a profit of $98.4 million (59 cents/diluted share) in the quarter. Smithfield Foods Inc. had a net loss of $4.6 million or a loss 2 cents per share in the year earlier quarter.
Revenue: Rose 7.1% to $3.12 billion YoY.
Actual vs. Wall St. Expectations: SFD reported adjusted net income of of 85 cents/share. By that measure, the company beat the mean estimate of 82 cents/share. Estimates ranged from 70 cents per share to 91 cents per share. It fell short of the average revenue estimate of $3.24 billion.
Quoting Management: "Fiscal 2011 was an outstanding year for Smithfield and I applaud the remarkable performance of our employees in producing these results. This year's earnings far exceeded those of our last record year and demonstrated an important shift in the key drivers of our business model toward consumer packaged meats, as more than two-thirds of our profits were generated by the Pork segment," said C. Larry Pope, president and chief executive officer. "Industry fundamentals were very supportive of record profitability in fiscal 2011. Strong global demand for pork, coupled with tight supplies, generated record margins in our fresh pork business. At the same time, Hog Production segment earnings improved significantly, as lower hog inventories boosted live hog market prices and favorable grain hedges yielded raising costs in the mid $50s per hundredweight for the year," he continued.
Key Stats:
Last quarter marked the fifth consecutive quarter of gross margins expanding as the company's gross margin expanded 8.5 percentage points to 14.6% from the year earlier quarter. Over that span, margins have grown on average 6.5 percentage points per quarter on a year-over-year basis.
Revenue has risen the past four quarters. Revenue increased 10.5% to $3.19 billion in third quarter. The figure rose 11.4% in second quarter from the year earlier and climbed 6.9% in first quarter from the year-ago quarter.
The company has now topped analyst estimates for the last three quarters. It beat the mark by 18 cents in third quarter and by 25 cents in second quarter.
Competitors to Watch: Hormel Foods Corporation (NYSE:HRL), Tyson Foods, Inc. (NYSE:TSN), ZHONGPIN INC. (NASDAQ:HOGS), Pilgrim's Pride Corp. (NYSE:PPC), ConAgra (NYSE:CAG), RalCorp Holdings (RAL), General Mills (NYSE:GIS), Kraft (NYSE:KFT), H.J. Heinz (NYSE:HNZ) and Seaboard Corporation (AMEX:SEB).

Stock Performance: Shares of SFD are up over 1% to $20.65 per share this morning.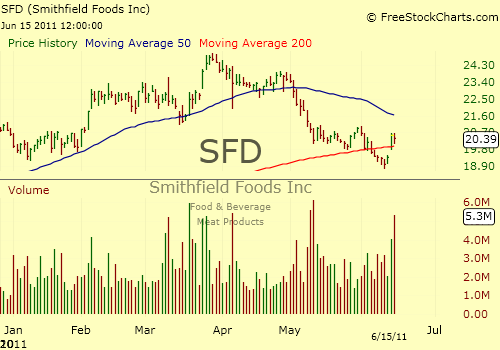 Don't Miss Wall St. Cheat Sheet's newest Feature Trades of the Month!
(Source: Xignite Financials)