Softbank Gets Clearance for Sprint Bid, BHP Billiton May Downsize Coal Ops, and 3 More Hot Stocks
Sprint-Nextel (NYSE:S): Softbank has reportedly acquired approval for its $20.1 billion bid for a 70 percent stake in Sprint, as its bid cleared the Committee on Foreign Investment in the United States' national security test. If the deal progresses and Softbank makes the purchase, both companies are subject to specific concessions, including giving the United States veto power over a director on the new board of Sprint, the member who would be responsible for overseeing compliance with national security, sources said.

BHP Billiton (NYSE:BHP): Rather than pursuing growth in its coal mining operations, BHP might instead sell off some of its coal assets, to better contend with slowing demand, falling prices, increased costs and the strong Australian dollar. Simultaneously, the company is also intending to squeeze higher margins out of its existing operations, and reduce its capital expenditures to maintenance levels.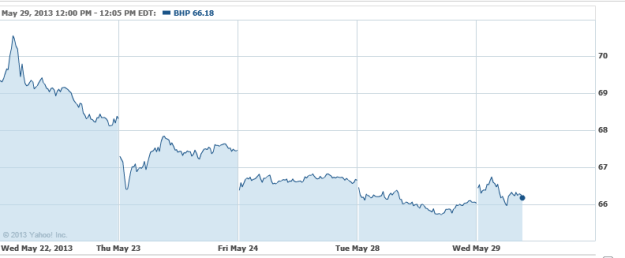 United Continental Holdings (NYSE:UAL): The U.S. Supreme court has rejected an appeal from United over a proposed limit on a federal law that requires employers to accommodate disabled workers. The verdict also allows the Equal Employment Opportunity Commission to proceed with a lawsuit accusing United of violating laws related to disabled employees, and will likely pave the way for other suites of a similar nature.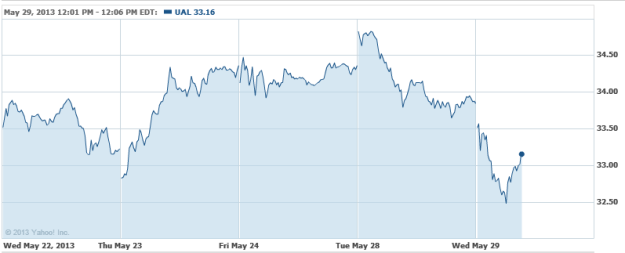 Delhaize Group (NYSE:DEG): Shares are running warm on Wednesday after Delhaize announced its intentions to sell its Sweetbay, Harveys, and Reid's grocery chains to Bi-Lo Holdings for $265 million. In 2012, the 165 stores included in the transaction generated revenues of approximately $1.8 billion.

Smithfield Foods (NYSE:SFD): Shares are on a tear, over 25 percent, riding on the announcement of Smithfield's sale of itself to China's Shuanghui International Holdings for about $7.1 billion, or $34 per share, a healthy premium on Smithfield's closing share price on Tuesday. The deal is slated to be closed in the second half of the year, pending regulatory approval. No Smithfield facilities or locations will be closed and the existing management team will remain in place.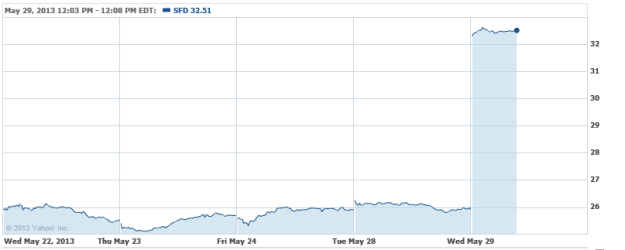 Don't Miss: Dish: SoftBank Deal A Security Risk.