Sony Doubles Profit Projections, Biogen's Strong Performance, and 2 Other Hot Stocks
Sony (NYSE:SNE): A weaker yen, sales of noncore assets, and a recent stock rally in its life insurance business have prompted Japan's troubled electronics maker to double its annual profit projections, which is now aimed to be roughly $404 million. The company is a prime example of how the monetary easing by Prime Minister Shinzo Abe has helped the nation's export-based economy. The company also raised its sales forecast to 6.8 trillion yen, up from 6.6 trillion yen. (Note: $1.00 = 99.41 yen.)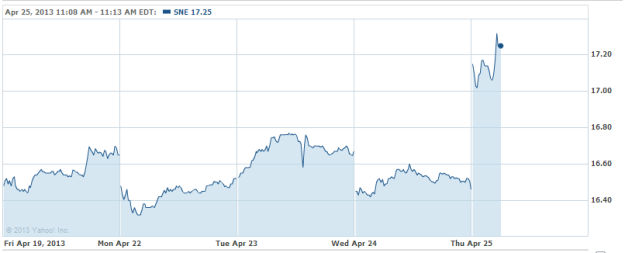 Biogen (NASDAQ:BIIB): Earnings of $1.97 beat expectations by $0.36, though revenue fell just short, at $1.4 billion ($0.01 billion off the mark, but still 10 percent over the same quarter last year). FAMPRYA and FUMADERM sales up 25 percent, and corporate partner revenues rocketed to $22 million, over $3 million from the same period in 2012. Royalties also increased by 33 percent, a 14 percent increase.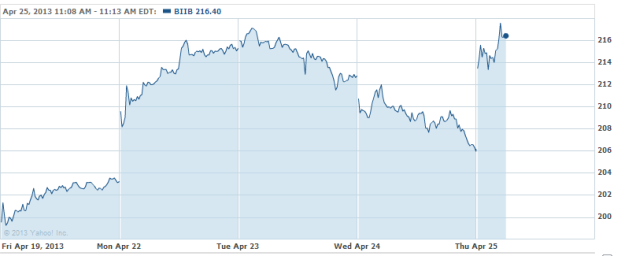 Potash (NYSE:POT): Potash may be looking to abandon its bid for Israel Chemicals, the company noted in its first quarter results. The purchase would have put the company in control of the sixth-largest potash producer in the world, and raised its global production capacity this year to about 27 percent of the market. Regardless, the company had a strong quarter, with revenues up 13 percent to $2.1 billion, beating by $0.28 billion. Earnings per share of $0.63 beat estimates by $0.03, and gross margins of $0.9 billion is the second highest achieved by the company.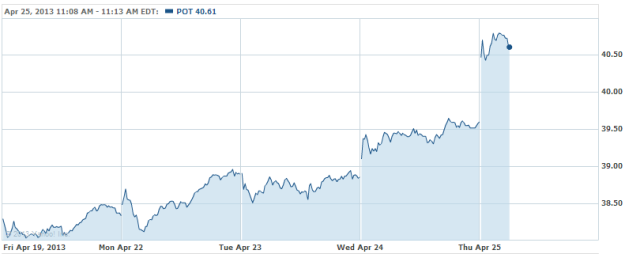 ConocoPhillips (NYSE:COP): The energy company's first quarter earnings of $1.42 fell in-line with expectations, and reported an eventful beginning to the year. During the three months, the company made the Coronado and Shenandoah discoveries in the deepwater Gulf of Mexico, entered Colombia to explore the La Luna Shale, and completed the sale of Cedar Creek Anticline properties, which netted the company $1 billion. "Our base business is operating to plan, our development programs and major projects are performing as expected and we are on track to deliver production and margin improvements this year. We remain committed to our goal of 3 to 5 percent volume and margin growth, with a compelling dividend," said CEO Ryan Lance.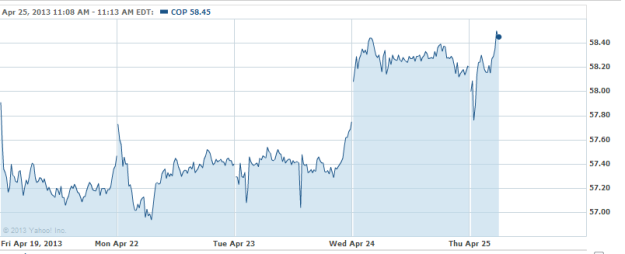 Don't Miss: Does Apple Still Have Something to Prove?