Sorry Economy, Consumers Are Still Income-Constrained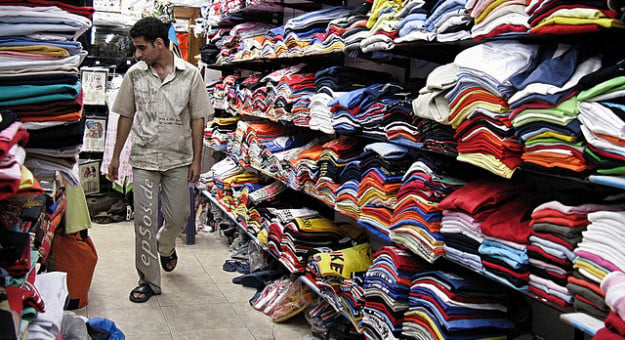 Unfortunately for retailers this year, Thanksgiving falls late in November, making for a shorter-than-average holding shopping season. It's no secret that United States retailers depend largely on their holiday sales to boost their revenues. Studies report that the shopping season usually generates 30 percent of annual sales, and companies do all they can to take advantage. However, this year, a shortened shopping period coupled with a slowing economy has retailers worried that the season won't be as lucrative as times past. In fact, stakes are so high for retailers competing for hard-won consumer dollars that even a government agency — the U.S. Postal Service — announced it would offer Sunday delivery for Amazon (NASDAQ:AMZN).
Perhaps more concerning for retailers than the six-day shorter holiday shopping period is the fact that consumers remain cautious spenders, keeping their outlays to immediate necessities and the occasional big-ticket item like a house or a car. Incomes grew in September by half a percentage point — likely due to an increase in government wages, which had been depressed in previously months because of employee furloughs. But, while the gain beat expectations, it was still modest, and September was the third consecutive month where income gains outpaced spending, evidence that consumers are remaining cautious.
"It's not like we're off to the races," MFR chief U.S. economist Joshua Shapiro told the Wall Street Journal. "The consumer is still income-constrained." The savings rate increased to 4.9 percent, above August's 4.7 percent pace, while consumer confidence dipped. Americans downgraded their expectations for the economy into November, another piece of evidence that consumer spending will remain weak in coming months. In particular, consumer confidence has been hurt by increasing mortgage rates and the political conflict in Washington that resulted in a 16-day government shutdown.
In a change from previous months, the increased rate of gross domestic product growth recorded in the July-through-September quarter was primarily driven by businesses spending on restocking their shelves, which could lead companies to produce less in the current quarter if that inventory is not depleted. However, while third-quarter GDP jumped to 2.8 percent, from 2.5 percent in the second, consumer spending dropped from 1.8 percent to 1.5 percent.
As long as the labor market improves only modestly and income and wage growth remains relatively stagnant, as it has since the end of the recession in June 2009, many American consumers will continue to be in a difficult position. If American consumers are in difficult position, so is the economy — consumer spending accounts for approximately 70 percent of gross domestic product. Furthermore, government and business spending have remained relatively weak in recent months, the economy is depending even more on household spending to fuel growth. Meanwhile, as incomes inched higher, the Department of Labor's September employment report had mixed signals for consumer spending. U.S. employers did add a greater-than-expected 204,000 jobs to payrolls for the month, but private-sector earnings showed meager growth and hours worked declined.
Official retail spending numbers for October will not be released until the end of this month, but one gauge — provided by Retail Metrics, showed same-store sales rose 3.7 percent from the year-ago month, beating predictions for a 3 percent increase. Similarly, a measure compiled by Thomson Reuters showed a 4 percent jump in same-store sales. Weekly snapshots of retail sales have told a similar story.
Measures taken by the International Council of Shopping Centers, in conjunction with Goldman Sachs and the Johnson Redbook Index, suggest that retails sales have been generally improving on both a week-over-week basis and a month-over-month basis since the government shutdown and debt crisis was resolved during the week ended October 19.
In particular, the most recent readings indicate that both indices are expanding modestly. However, for October, ICSC's same-store index points to a general improvement in retail sales over the month, while Johnson Redbook's month-to-month sales comparison suggests that consumer spending declined over the month.
In the week ended November 9, ICSC-Goldman's same-store sales index rose 1.2 percent, week over week, after contracting at a 0.6 percent rate in the previous week. On a year-over-year basis, the index's growth expanded at a faster pace, increasing 2.3 percent compared to the previous week's 1.9 percent expansion. But over the past six weeks, the index's weekly comparison has only been positive for two non-consecutive weeks,  although the yearly comparison has remained positive except for a temporary slowdown midway through the month. Still, the 4-week moving average for the year-over-year rate is at plus 2.4 percent, a modest pace but still the best recorded by the index since August.
"Colder weather than last year and lower gasoline prices than last year collectively were helpful to sales," as ICSC chief economist Michael Niemira described the past week's results in the press release. More encouraging is the fact that, because of the holiday shopping season, sales in November typically pick up momentum in the later half of the month.
The Johnson Redbook Index also showed strengthening same-store sales for the first week of November. Growth has slowed somewhat this year. The index has expanded 3.3 percent over the past 12 months, which compares with the previous week's 3.8 percent rate of growth. But, Redbook's monthly comparison rose 0.8 percent rate after contracting 1.2 percent the week before.
Follow Meghan on Twitter @MFoley_WSCS
Don't Miss: Ted Cruz in the Crosshairs: Study the Past to Know the Present?