Sorry, Obama, Millennials Are Disillusioned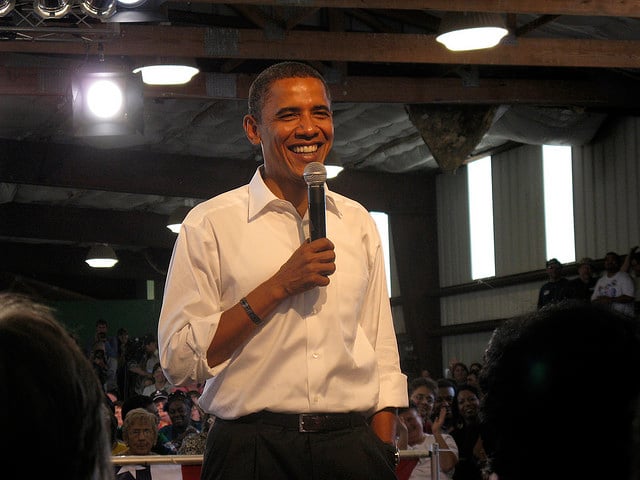 In 2008, Barack Obama was swept into the White House on a tide of support from the nation's young adult population. But a quick examination of the 2012 presidential exit poll shows that his margin of support over his Republican challenger among 18- to 29-year-old voters dropped 11 points from 2008 levels. While statistics do not shine much light on what prompted that shift in enthusiasm, an inspection of the tough challenges faced by that demographic reveals a growing belief among young adults that opportunity is shrinking.
Throughout U.S. history, each generation of Americans has experienced a better standard of living than the preceding one, a trend that has been a source of pride for the nation. Just about a month before President Obama's 2009 inauguration, Gallup asked in a poll, "How likely do you think it is that today's youth will have a better life than their parents — very likely, somewhat likely, somewhat unlikely, or very unlikely?" At the time, 56 percent of Americans said they believed it was "very likely" or "somewhat likely" that young adults would have a better life than their parents. But by April 2011, that number hit an all-time low of 44 percent. The number has since rebounded somewhat, rising to 49 percent in December 2012, but it still remains lower than when Obama was first elected.
Implementation of the president's health care reform law has done little to boost his standing in the eyes of millennials, the generation born approximately between 1980 and 1995. The Affordable Care Act is meant to be the landmark achievement of Obama's presidency, but research shows that most millennials believe the legislation will bring higher health care costs and lower-quality care.
Among the 18- to 29-year-olds without health insurance who responded to a Harvard University Institute of Politics survey, less than one-third said they were likely to enroll in the online insurance marketplaces, the cornerstone provision of the Affordable Care Act. Approximately four in 10 respondents said they were undecided.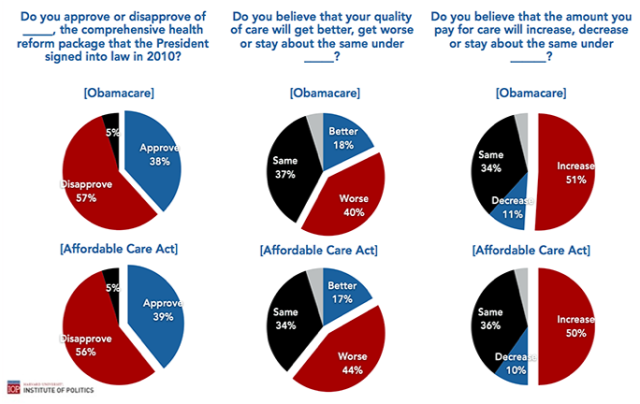 When asked whether they approved of the Affordable Care Act, 56 percent of respondents answered negatively, while 39 percent said yes. When the term "Affordable Care Act" was replaced with its nickname, "Obamacare," respondents answered slightly more positively, a phenomenon recorded by numerous other polls.
Forty percent of respondents believe Obamacare will make the quality of care worse, 18 percent said it would improve quality of care, and 37 percent said it would remain the same. Again, when the term Affordable Care Act was substituted for Obamacare, millennials gave more negative respondents. Regarding the price of health care, half of all respondents answered that they think costs will increase.
For the Obama administration, these poll numbers could be concerning. The premiums in the new federally facilitated and state-run insurance exchanges were calculated based on the assumption that young, healthy, and therefore cheap-to-insure individuals would be moved into the new marketplaces.
If those healthier individuals chose not to purchase insurance via the marketplaces, the risk pools of the exchanges will be dominated by older, sicker people, who are likely to find more affordable policies through the exchanges. Exchange risk pools must be broad enough to balance out the proportionally higher medical costs of the sicker and older individuals who will likely be among the first to sign up.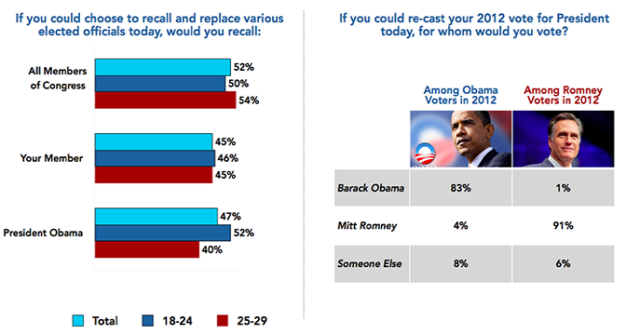 Meanwhile, young adults are not satisfied with the country's elected leadership, with older millennials feeling much more inclined to replace all members of Congress (if possible) than their younger counterparts. Comparatively, younger millennials are more interested in replacing President Obama. This answer hints at a larger truth: the confidence that many young Americans had in Obama and his agenda is seemingly gone. In the past six months, Obama's job approval rating has dropped 11 points to 41 percent among 18- to 29-year-olds.
"A critical factor in the election and reelection of Barack Obama, America's 18- to 29-year-olds now rate the president's job performance closer to that of Congress — and at the lowest level since he took office in 2009," said Trey Grayson, director of the Harvard Institute of Politics, in a press release announcing the survey results.
With the ongoing political deadlock in Congress, the problems plaguing the first weeks of the six-month enrollment period for the online insurance marketplaces, former National Security Agency contractor Edward Snowden's revelations about the government's personal-data collection programs, and ongoing economic woes, it's no wonder younger Americans are becoming disillusioned with Washington.
Don't Miss: Is Obamacare Enrollment Finally Ramping Up as Promised?