Southern Union Co. Earnings: Revenue Falls After Four-Straight Increases
Falling revenue did not prevent Southern Union Co. (NASDAQ:SUG) from reporting a profit boost in the first quarter. Southern Union Company is engaged in the gathering, processing, transportation, storage and distribution of natural gas in the United States. It operates in three reportable segments: Transportation and Storage, Gathering and Processing, and Distribution.
Don't Miss: Wall St. Cheat Sheet's newest Feature Trades of the Month!
Southern Union Earnings Cheat Sheet for the First Quarter
Results: Net income for Southern Union Co. rose to $60.7 million (48 cents/share) vs. $56.5 million (43 cents/share) in the same quarter a year earlier. A rise of 7.4% from the year earlier quarter.
Revenue: Fell 1.6% to $746.8 million YoY.
Actual vs. Wall St. Expectations: SUG reported adjusted net income of of 51 cents/share. By that measure, the company beat the mean estimate of 50 cents/share. Estimates ranged from 47 cents per share to 55 cents per share.
Quoting Management: Eric D. Herschmann, Vice Chairman, President and COO, added, "The Company is happy to announce that Southern Union and BG LNG Services, LLC, a subsidiary of BG Group plc, have formed a joint venture which has filed an application with the US Department of Energy for long-term authorization to export domestically sourced liquefied natural gas from the Company's liquefied natural gas import terminal facility in Lake Charles, Louisiana. The project will require modification of the facility to construct natural gas liquefaction capability. The application provides for volumes of two bcf/d over a 25-year period, commencing on the earlier of the date of the first export or ten years from approval of the application."
Key Stats:
A year-over-year revenue decrease last quarter snaps a streak of four consecutive quarters of revenue increases. The best quarter in that span was the second quarter of the last fiscal year, which saw revenue rise 26.5%.
The company has now seen net income rise in two-straight quarters. In the fourth quarter of the last fiscal year, net income rose 5.2% from the year earlier.
Competitors to Watch: El Paso Corporation (NYSE:EP), Atlas Pipeline Partners, L.P. (NYSE:APL), DCP Midstream Partners, LP (NYSE:DPM), Enterprise Products Partners L.P. (NYSE:EPD), Atlas Pipeline Hldgs., L.P. (NYSE:AHD), Spectra Energy Partners, LP (NYSE:SEP), Kinder Morgan Inc (KMI), Copano Energy, L.L.C. (NASDAQ:CPNO), TC Pipelines, LP (NASDAQ:TCLP), and Oneok Partners LP (NYSE:OKS)
Stock Performance: Shares of SUG are unchanged from the previous close.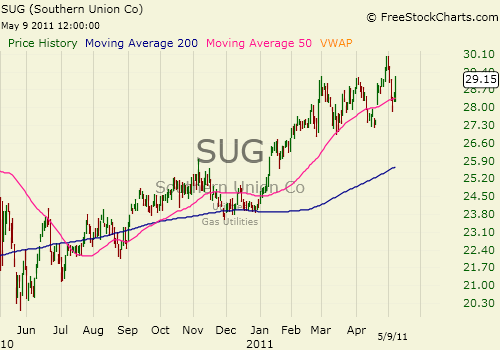 Don't Miss Wall St. Cheat Sheet's newest Feature Trades of the Month!