S&P 500 Breaks Record: These 4 Stocks Light Up Trading Screens
Time to dust off your rally caps and pop the champagne. After more than five years of waiting, the S&P 500 finally managed to break its all-time nominal closing high set in October 2007.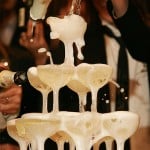 On the final trading day of the first quarter, the S&P 500 (NYSEARCA:SPY) gained more than 6 points to finish at 1,569.19, just above its previous closing high of 1,565.15 made nearly 66 months ago. The new record comes about three weeks after the Dow Jones Industrial Average (NYSEARCA:DIA) broke its previous high.
Here's how the market traded Thursday: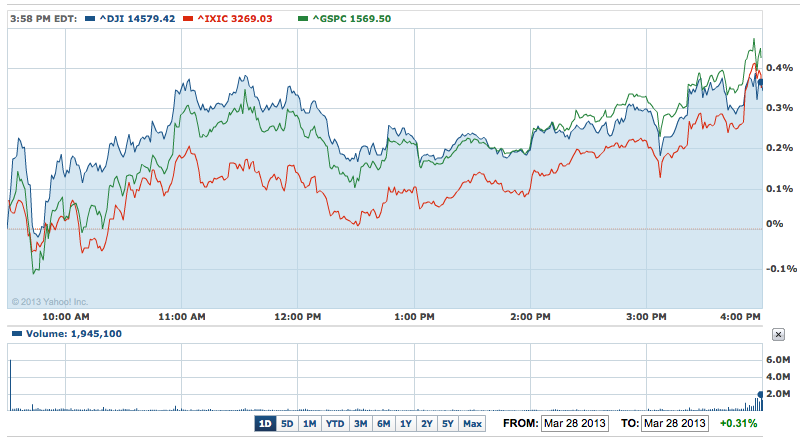 Interestingly, the move comes as banks in Cyprus reopen for the first time in two weeks. Turmoil in the insolvent country caused an increase in volatility due to officials deciding to confiscate bank deposits to satisfy requirements for a bailout from international leaders. The decision to seize insured bank accounts with under 100,000 euros was ultimately reversed, but capital controls are now in place and other countries in the euro zone could experience a similar fate.
There is no denying the impact the Federal Reserve has made on the stock market with its quantitative easing programs and low interest rates, but here are some of the biggest movers in the S&P 500 this year…
Hewlett-Packard (NYSE:HPQ):
After plunging 45 percent last year, shares of HP surged 67 percent in the first quarter.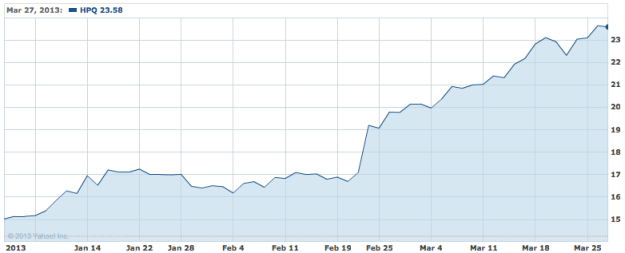 Other left-for-dead technology names are also outperforming…
Best Buy (NYSE:BBY):
The electronics-retailer has seen its fair share of problems over the years, but the stock is showing signs of life in the first quarter. Shares have jumped 87 percent year-to-date.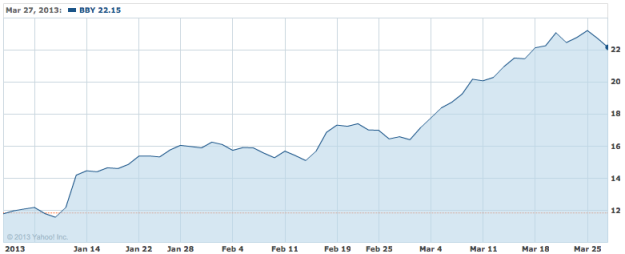 Best Buy's turnaround is a slightly complicated affair in its own right. Up until a little more than a month ago, the company seemed to be losing its battle with showrooming. The electronics retailer saw its shares drop 50 percent in 2012 as shoppers increasingly used the retailer's stores to examine and test products before purchasing them for lower prices from Internet companies like Amazon (NASDAQ:AMZN). That tactic contributed to abysmal results in third quarter, when the company posted a loss of $10 million.
However, several upgrades from Stifel Nicolaus and Barclays Capital in the middle of February helped to improve sentiment. Both brokerages cited Best Buy's price matching policy and improved management for their higher ratings.
Netflix (NASDAQ:NFLX):
Shares of the online streaming company more than doubled in the first quarter from $93 to $189, making it the best performer in the S&P 500 year-to-date.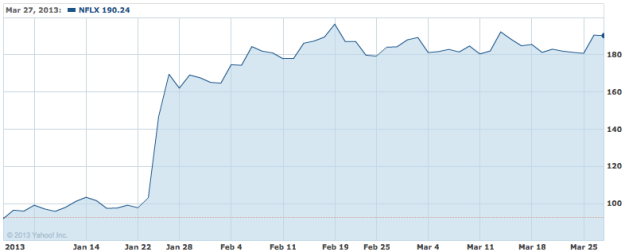 Netflix continues to impress investors with new content deals and execution. It has more than 33 million members in 40 countries. In 2012, the company added almost 10 million global streaming members.
Earlier this week, analyst Andy Hargreaves of Pacific Crest Securities increased his price target on Netflix from $160 to $225 per share, and maintained his Outperform rating. He believes Netflix can use its information advantage and content spending to drive subscriber growth more than expected. Hargreaves believes Netflix will now hit 46 million domestic streaming subscribers by 2015, up from his prior estimate of 43 million.
This retailer has been a loser…
J.C. Penney (NYSE:JCP):
Even in this market, not every stock can be a winner. Shares of J.C. Penney plunged 23 percent year-to-date, and remains one of the most hated stocks in the S&P 500 based on short interest.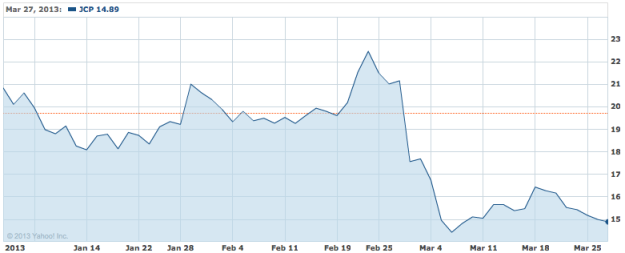 Don't Miss: Should You Avoid Stocks During March Madness?