S&P Downgrades Berkshire, Dangdang Beats Estimates, and 3 More Hot Stocks
Berkshire Hathaway (NYSE:BRKA): Standard & Poor has cut its credit rating on Berkshire's BRK.A stock, from AA+ to AA. "The lower credit rating … better reflects our view of BRK's dependence on its core insurance operations for most of its dividend income … only Burlington Northern has provided a significant portion of the total dividends paid from the operating companies to the holding company," S&P said.

E-Commerce China Dangdang Inc. (NYSE:DANG): Earnings of $0.15 beat estimates by $0.03, and revenue of $214 million fell comfortably above projections, which it beat by $4 million. The company added 2.4 million new customers during the quarter, pushing orders up 21 percent to 14.8 million. Gross margins also improved to 17.2 percent on operational efficiencies, and revenue growth guidance for Q2 comes in at 23 percent.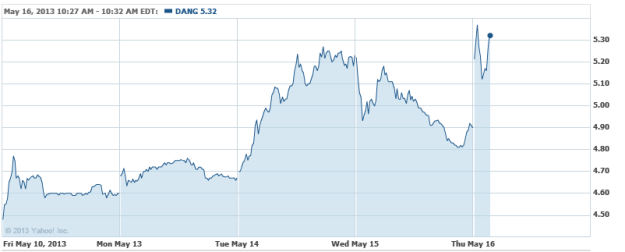 Cisco Systems (NASDAQ:CSCO): Shares of Cisco are racing after the company posted quarterly results that beat expectations, both in earnings and revenue. Product sales (78 percent of revenue) rose 5 percent year-over-year, while service sales saw an increase of 7 percent. CEO John Chambers says the networking giant is seeing a "slow but steady economic environment."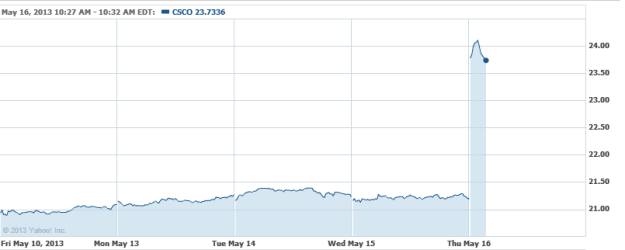 Kohl's Corp. (NYSE:KSS): A comfortable earnings beat of $0.08 for EPS of $0.66 has pushed shares of the company over five percent, despite a slight miss for revenue, which came $90 million below expectations for $4.2 billion. Comparable store sales fell 1.9 percent for the period, although trends improved towards the end of the quarter, consistent with other industry experiences. The company noted that inventory levels were consistent with expectations, and added 21 new locations for a grand total of 1,155.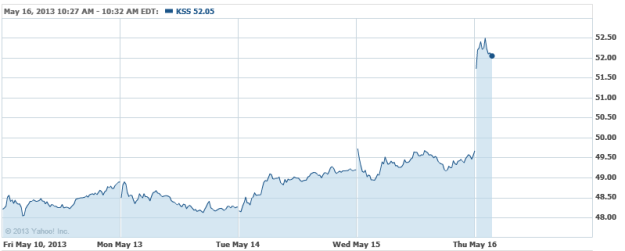 Citigroup (NYSE:C): Hedge funds that have taken up positions in Citigroup are reaping the benefits, as the bank puts gains of 16 percent on over the last month. Moore Capital Management and Appaloosa Management were among the handful of firms with significant stakes in Citi, which has seen healthy growth since CEO Michael Corbat took over in October.

Don't Miss: Can Wal-Mart's Solo Bangladesh Plan Be Effective?