Spanish Bank Bailout: A Good Reason to Rally?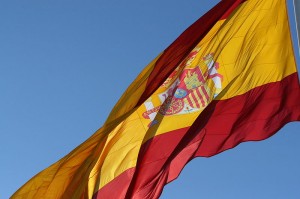 United States stock futures popped on Monday following some positive news out of the euro zone. European shares rallied and the euro climbed to a six-week high against the dollar after Spain formally requested financial assistance for its banking system.
Spain asked euro-zone finance ministers for 39.5 billion euros ($51.46 billion) to recapitalize its struggling banking sector. It's important not to confuse this funding with a full-blown bailout, which many had been expecting Spain to request. Spain is asking for money to transfer straight to the balance sheets of four nationalized banks — Bankia, Catalunya Bank, NCG Banco, and Banco de Valencia — and the so-called "bad bank," where Spain is quarantining toxic assets.
Catalysts are critical to discovering winning stocks. Check out our newest CHEAT SHEET stock picks now.
Finance ministers are expected to approve the funding on Monday at a regularly-scheduled monthly meeting in Brussels.
Spain has been a major downside risk since 2008 when the crisis began in full swing…
Unemployment in the country is at a record 25.8 percent. Real gross domestic product, the broadest measure of economic activity, is expected to contract 1.3 percent in 2012 and 1.4 percent in 2013 before recovering to just 0.5 percent growth in 2014, according to the Organisation for Economic Co-Operation and Development.
At the end of November, the OECD released its latest Economic Survey of Spain, which painted the Spanish recovery as a Herculean task. José Angel Gurría, secretary-general of the OECD, said in a release that "while uncertainty in the euro area and the continuing global economic slowdown complicates Spain's path to recover, we are sure that the country is moving in the right direction. The cost of economic reforms may be high, but the pay-off will be a strong Spain, better equipped to compete in the global economy."
Angel Gurría's comment about the high cost of recovery highlights the financial commitment that euro-area governments are making to support struggling economies like Spain and Greece. While some of the price of supporting Spain's financial sector ultimately comes down to euro-zone taxpayers, the recapitalization of Spanish banks is "an important milestone" in the road to recovery, according to the OECD.
Don't Miss: Here's Why Companies are Rushing to Pay Out Higher Dividends.